BANKOLE DENIES WIKILEAKS STORY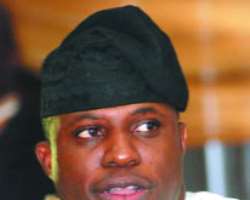 Speaker of the House of Representatives, Oladimeji Bankole yesterday described as untrue, reports quoted from the controversial media, Wikileaks that he alleged that Supreme Court Justices took bribe to validate Yar'Adua/Jonathan election, as well as describing EFCC as 'not worth a penny.'
Special Adviser to the Speaker on Communications, Kayode Odunaro, in a statement said the reports had no iota of truth.
'We deny in strongest terms that Speaker Bankole ever made such allegations or statement against respected Justices of the Supreme Court and the anti-corruption agency, EFCC in any meeting with the then US Ambassador, Ms. Robin Sanders.
'The official meeting Ms. Sanders had with Mr. Speaker was in the presence of the leadership of the House and did not last more than 20 minutes. It is a lie that Mr. Speaker had a two- hour private meeting with Ms. Sanders.
'The office of the Speaker challenges US officials to authenticate this wild allegations that strike at the integrity of Nigeria's judicial institution and its foremost anti-corruption agencies.
'It is an open secret, the cordial relationship that existed between the late President Yar'Adua and the Speaker, aside the fact that he wass part of   the Yar'Adua government.
'He could not have made an allegation against the Justices which impugned on the Yar'Adua government.'
The statement added that the office of the Speaker noted with surprise that any Nigerian medium could give credence to and publish what in essence could be mere gossip and unconfirmed summary of diplomats trying to get a grip of issues on-going in their host countries for their home government.
'We want to counsel media organizations that such sensational allegations bordering on crime against the highest judicial officers of the land and its foremost anti-corruption agencies should be handled more responsibly with full and verifiable authentication from all parties in the interest of protecting the institution of judiciary, the last hope of the common man.'