NFF LINES UP SPAIN, GHANA, S/AFRICA FRIENDLY MATCHES FOR EAGLETS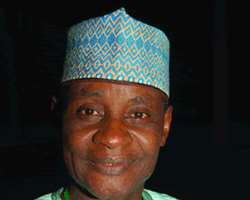 •Maigari
Embattled Nigeria Football Federation (NFF) has rolled out a comprehensive programme for the Under-17 Golden Eaglets' build up for the 2012 African Under-17 Championship, lining up four international friendly matches for the team.
If the Glass House keeps to the letter of the proposed camping and friendly matches for the Golden Eaglets this year, the team would likely resume camping this weekend and engage its Ghanaian counterpart in a friendly on either March 21 or 26.
According to the plan, the Eaglets will also tackle the trio of Burkina Faso, South Africa, and Congo DR before engaging the Spanish Under-17 ahead of the main qualifier games.
Lagos has tentatively been pencilled down to host the Spain and Burkina Faso friendly matches, while the Abuja National Stadium will host the Ghana and Congo DR encounters, just as the team will travel to South Africa and Ghana for the away friendlies. The programme also revealed that while the entire preparation involving camping and the matches will gulp N248.4 million, the Glass House proposed N52 million for the warm-up match against Spain in November this year.
It further disclosed that the camping and friendly against Ghana this month would gulp N41.3 million, while the away friendly against South Africa would also take N41.3 million, just as the FA would spend N37.8 million for the Abuja friendly against Congo DR in October.
Meanwhile, the load would be too heavy for the embattled FA as it also proposed the commencement of the camping for the Beach Eagles this month, just as it earmarked N102.3 million for the preparation of the African and World Cup qualifiers.
The camping will hold between March and April, while the team would engage three Nigerian teams in friendly matches beginning with the Badagry Beach Soccer team. After playing others such as Lagos United Beach soccer, OWIBESEB Beach team Ojo, the team would also engage Ghana Beach Soccer national team, Malawi, Armed Forces team in Salima and the Mozambique national teams in international friendly.