What Comes With Music For Whizkid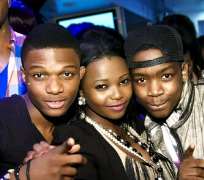 So whizkid has got a mate now. I see dem rolling with dem girls, ok what comes with music.

In case you don't know whizkid, y'all have heard the song 'holla @ur boy', yea that's whizkid a.ka. Banky w's godson, hahaha, but it's true.

And now young chics bin writtin his name on their b..bs ok, still what comes with music, lol.