PAY-AS-YOU-GO CHURCH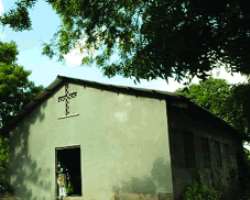 The consequences of the quest for quick results and the gullible nature of some Nigerians to believe any word spoken by self-proclaimed prophets and preachers came to the fore recently in Onitsha, Anambra State. Sunday Sun discovered a church where members are hypnotised into parting with their hard-earned money in exchange for 'miracles'.
Located at Oraukwu community town hall, Silas Works Road, Fegge, Onitsha, is a new generation church, Land of Canaan and Calvary Deliverance Church, where God's blessings are 'bought' for a fee.
Members of the congregation are brainwashed to make special offerings so as to attract God's blessings.
 At the Land of Canaan and Calvary Deliverance Ministry, the unofficial slogan of the pastor in charge is 'pray, pray, pray, fast, fast, fast; God's favours doesn't go with praying and fasting, he goes by the price you pay. Pay the price and God will surprise you.'
Fed with this strange orthodoxy, members of the church pay different amounts of money to receive God's favour. While the pastor smiles to the bank, the congregation wallow in poverty, hoping their moment of abundant wealth is around the corner.
Sunday Sun reporter gathered that prayers for breaking of ancestral curses in the church attracts a fee of N50,000 and above; special prayers for God's favour, often done by selected 'prayer warriors', who are strict vegetarians, goes for N75,000; sowing of seed for abundant wealth costs N200,000, while fortification of a worshipper against misfortunes and accidents goes for N100,000, among other sundry charges members of the congregation are made to pay.
The Bible, in the book of Malachi, admonishes Christians to give 10 per cent of their earnings to God as tithe so as to attract more blessings, but in the House of Canaan and Calvary Deliverance Ministry, tithe is 20 per cent of one's income so that 'God will answer prayers and requests very fast.'
A former member of the church, Uche Nnebedum, is currently engaged in a mother of all battles with owner of the church, Pastor Ekenechukwu Chukwumerem, in his quest to recover N3.5 million he was allegedly fleeced by the church.
 Narrating his ordeal, Nnebedum, who is the Director of Divine Favour Transport Company, said he had made a vow to recover everything the pastor deceitfully collected from him and also to expose the antics of other warehouse churches so that more people would not fall victim.
 
Encounter with the pastor
Nnebedum told Sunday Sun that he had met Pastor Chukwumerem in the quest for solution to some financial misfortunes he had suffered in his business.
 'I was directed to the church by my own blood relation, Amaechi Nnebedum, who did not know that the pastor was not genuine. I told the pastor that I was looking for solution to my problems and he laid his hands on my head and later said that I was now at the final bus stop. He told me that if I wanted my problems solved, the church would embark on special prayers for me. The prayers, according to him, would be held by a band of dedicated prayer warriors at GRA, Onitsha. The group, he told me, eats selected fruits only and the price is N75,000. I foolishly paid the money and that was the beginning of my ordeal.'
 'You need a voice for God to hear you'
Continuing, Nnebedum said: 'After paying N75,000,  my problems increased, and when I told the pastor, again, he told me that I needed a voice that would speak for me so that God would hear me quickly. By this, he meant that God had directed that I should buy a complete set of loud speakers and public address system for the church.
'I bought a set of made-in-Nigeria speakers, but he rejected it until I bought imported ones, then he said the heavens had accepted my offering. He continued to brainwash me, telling me that if I could imagine how bright my future was, then I should not relent in doing whatever God said I should do. I know people who hear my story now will blame me or even ask whether I'm a fool, but they won't know that I was under a spell then. He continued giving me false hopes and I continued sowing seeds and paying special tithes believing that things would soon get better, all to no avail.'
 
I borrowed money to pay tithe
'I continued to suffer in silence, to the extent that I sold my household items and started borrowing money to pay tithes. The pastor told me again that the next step was for breaking ancestral curses, which will cost N50,000. I paid the money and not quite long after that a friend gave me a luxury bus to manage. When I informed the pastor, he said I should sow a seed of N20,000 so that the heart of the friend who gave me the bus will be tender towards me.
'He also instructed me to surrender the first cash proceeds from the bus on its first trip. I did all these only for the vehicle to suffer brake failure on the first trip. It took three weeks before that bus made it to Abuja from Onitsha.
 
'If you are a good sheep, seek counsel from the shepherd'
According to Nnebedum, the pastor always tells the congregation to share everything about their private lives with him so that he could seek God's view and tell them the outcome, and those who obey this injunction paid dearly for heeding this advice.
'Our greatest mistake was accepting to tell him everything about our lives. Whenever you told him about any problem you are having, he always found a way to convince you to part with more money.
'He convinced me that the luxury bus was a tool for greatness, which God sent to me. Even when the bus continued to break down, I was still spending money on it and also giving more money to him. The bus broke down again while on a second trip to Abuja after I had repaired it. The engine knocked. I complained to him. He became furious and said that I had offended the Holy Spirit by questioning its authority. As a punishment, he said I should do another thanksgiving of N50,000 if I ever want the vehicle to move again so as to placate the Holy Spirit.
 
'Every word of mine is holyghostic'
'To confirm the efficacy of the pastor's power, Nnebedum said he defied his directive to do another thanksgiving and borrowed money to repair the vehicle.
 'Immediately the vehicle was put in order, my boys loaded passengers from Abuja to Onitsha only for the vehicle to suffer brake failure again. It lost control and rammed into a culvert in Zuba. Four other vehicles were also hit in the process and I came back to the pastor crying. He told me that every word that came out of his mouth was 'Holyghostic' and to solve that problem, I must do a grand thanksgiving.
'Still blinded by the spell cast on me, I borrowed money to buy a cow, household items, bags of rice, a television set, tubers of yam and another two giant loud speakers. He told me to monetise the cow for N60,000, so instead of presenting a live cow, I enclosed the cash equivalent in an envelope.'     
 
The last straw that broke the camel's back
'After presenting all the items, the pastor was very happy. Out of excitement, due to the abundant gifts, he declared to the congregation that God had accepted my offering and that henceforth, my bus would now be called 'good night Onitsha, good morning Minna /Abuja', meaning that our journey would be hitch-free.
'After opening the envelope, he later called my brother on phone to inform me that I should bring extra N30,000 to balance the money for the cow, since, according to him, N60,000 was not enough to buy a cow. The next day, the vehicle was loaded in Minna, heading for Onitsha only for the engine block to blow into pieces in Delta State.
'At that moment, I felt like dying. I had lost the will to live and the people I'm indebted to were already chasing me around because cumulatively, the so-called man of God had drained me to the tune of N3.5 million.
'My wife, who had been warning me to flee from that church, then saw my condition and invited her pastor to our home to speak to me. After counseling me, her pastor told me to run away from that church because the pastor was a fake man of God.  There and then, an inner power came into me and I made up my mind to go and demand a refund of all I had given him. When I went to his house in Asaba, Delta State, and confronted him, his wife reprimanded me for talking to a man of God that way. When I told her to watch her tongue, she entered into the inner room and suddenly brandished an empty bottle and broke it on my head. With blood gushing from my head, I went to a nearby police station to lodge a report against him. I narrated everything to the police and he was arrested. After interrogation, he agreed to an amicable settlement and promised to refund everything to me. We fixed a date to meet for a final settlement.
 
Complainant became accused
'While Nnebedum was hoping to collect the cash and items given to the pastor within the one week as agreed, the matter took a dramatic turn when Ekene petitioned the Delta State Police Command headquarters and alleged that Nnebedum and policemen from B Division invaded his house and threatened his life, ordering him to surrender all the items Nnebedum had used for thanksgiving. He also questioned whether perishable or imperishable items brought to the house of God for thanksgiving could be reclaimed after weeks from the church.
 'Though, I was the complainant in this matter, I was later summoned to appear at the Delta State Police Command headquarters. I was detained and later released on bail; but the pastor wasn't done yet. He went further to sue me and the police at an Asaba High Court, asking for the enforcement of his fundamental human rights and an order restraining us from harassing him and his ministry. The matter has lingered because he has not appeared in court, but we are not perturbed.
 
Nemesis on its way
Investigation by Sunday Sun revealed that other members of the church are currently up in arms against the pastor.
As at the time of filing this report, the pastor has removed the signpost in front of the church and has gone underground. When this reporter called him on his mobile phone, the pastor, after acknowledging that he is the pastor in charge of the church, later denied himself. He said he was the pastor's neighbour when the reporter identified himself and mentioned Nnebedum's name. He refused to disclose his location and promised to get back to this reporter when the 'pastor' returns. But he never did. Subsequent calls to his line were not answered.