UNDERRATE ETHIOPIA AT YOUR PERIL – ERICO TELLS EAGLES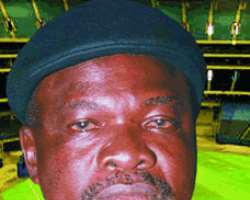 •Joe Erico
Ahead of next month's Africa Nations Cup qualifier, former Nigerian international, Joe Erico, has advised the Super Eagles of Nigeria to go for a win against Ethiopia if they want to be part of the 2012 event.
'Jogo Bonito', as his admirers fondly call him, warned the Samson Siasia-led boys not to look down on Ethiopia, as any attempt to do so could lead to a catastrophe.
'It's said that experience is the best teacher, and I think that Eagles must have by now gotten a trailer load of experience when it comes to looking down on a team. Eagles have on several occasions received bitter lessons for writing off some teams before playing them in international competitions,' he said.
'So, one should no longer remind them that minnows are no more in world football. Nigeria did not play in Germany 2006 because our boys thought that they could have overrun some nations with ease, but it never came that way. The struggle Nigeria went through to qualifier for the 2010 FIFA World Cup in South Africa is another fresh case to remember.
'For me, Eagles should take Ethiopia seriously and play them with respect, if ever they want to play at the Guinea/Gabon 2012 Nations Cup. They have to fight to win the game or miss out from the continental championship.
'Eagles should not pray to experience what Nigeria suffered in the hands of Angola in Kano when they denied us the opportunity of going to Germany 2006. They should not look down on Ethiopia otherwise, the country will pay for it.'
Erico said that every country now wants to make a name and would struggle hard in every competition to succeed. That, he said, had made it difficult for Eagles especially when they have to play unknown countries that want to be recognised by all means, more so, in the round leather game.
'The Ethiopians would want to fight Nigeria with the last drop of blood in their veins to ensure they humiliate us. Our boys must know this and buckle up.
'I wish the Eagles well. I pray to see a brand new team that can play the game very well. I was happy watching their last friendly against the Leone Stars of Sierra Leone. Their performance gave me hope that better days are at hand. All they need is to prepare well to get their bearings.
'The goalkeeping department is okay because we have capable goalkeepers. Vincent Enyeama is good, and so are the other ones.'