NLC RESUMES UNION BANK PICKETING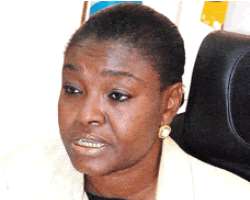 Business activities in Union Bank branches in Lagos suffered another set back yesterday as Nigeria Labour Congress (NLC) resumed nationwide picketing of the bank. Unlike Monday when the workers at the headquarters got to their duty posts before the picketers, the NLC and its affiliates got to Lagos as early as 6 am, taking over the entrance of the headquarters of the bank in Marina.
Workers were shut out of the headquarters and were forced to watch the activities of the protesters from a distance as most of them were afraid of being caught in the middle of the action. None of the management staff of the bank, including the Managing Director, Mrs Funke Osibodu, was seen around the bank on yesterday.
Besides shutting down the operations at the head office of the bank, members of the NLC also went around branches in Lagos to close down their operations. Speaking at the rally, a top officer of the congress, Owei Lakemfa, challenged the management of Union Bank to follow the line of wisdom and dialogue with the congress.
'As it is now, the NLC is resolved to fight this battle to a logical conclusion. We are going to continue until Friday and as the congress president has spoken on Monday, we may extend the battle to a national strike,' he said.
Lakemfa said the yesterday's picketing had more effect, warning that the action for the remaining two days would be more intense. He explained that there had not been any sincerity on the path of the bank's management with regard to dialogue to resolve the crisis. 'We met with some representatives of the bank on Monday at the police commissioner's office in Ikeja but those people have no mandate to discuss.
'It is only Osibodu that can talk on the main issue and as she has been evasive, the picketing continues,' he stated. Meanwhile, the Minister of Labour and Employment, Chief Emeka Wogu, had summoned another meeting with all the parties in Abuja yesterday evening.
'As much as we will not want to pre-empt the minister, we have sent two representatives to attend the meeting but if his position was still based on the last meeting, then the picketing continues,' Lakemfa stressed.