MARTINS HOPES TO EXTEND BLUES STAY AFTER LOAN STINT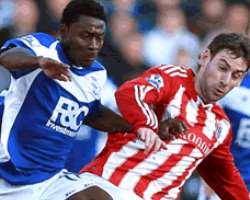 Martins in action
Obafemi Martins has set his sights at sealing a permanent move to Birmingham as he prepares to face his former club, Newcastle in today's home Premier League clash. Martins is on loan from Russian side, Rubin Kazan for the remainder of the season, but the Nigerian international is keen to make a good impression and move on a full-time basis to St. Andrews.
Martins, who made his debut against Stoke on Saturday, said: "Would I like a permanent move? Yes, why not. Birmingham is a big club and the team is doing well.
"If everything goes well, then of course, I'm going to stay. I was keen to play Premier League football again. It's one of the best leagues in the world.
"It doesn't matter to me that Birmingham isn't the biggest team in this division. It's not the smallest team either. I wanted to come here and play for them. This is a great opportunity. I just want to fit in as soon as possible, start scoring goals and be happy here."
Martins also knows he has made many people happy in his homeland by returning to the English top-flight.
"The Nigerian fans will be very happy to see me playing in the Premier League.
"There are 150 million people there and many of them watch Premier League football on TV. When I was playing in Russia, people kept telling me I had to go back to the Premier League so that they could watch me more often."
Martins scored 28 goals in 88 league games for Newcastle between 2006 and 2009, when he was a teammate of current City captain, Stephen Carr, and still has a lot of affection for the club. But all his thoughts are on earning Birmingham the win, which will lift the club into the top half of the table.
"I've good memories from my time at Newcastle and they're good supporters.
'I don't play for Newcastle anymore and it would be strange to line up against them, but that's life. You never know what's around the corner in football.
"It would be nice to see some of the players again, but I'm a Birmingham player now and I'd be giving it all for my new team."
Martins insists he's not faraway from achieving full fitness despite having played no competitive football for two months before facing Stoke.
"My last game for Rubin was against Barcelona in December and we returned for pre-season in the middle of January. I played in my last friendly game for them two weeks ago and since then, I've been training in Nigeria, so I'm feeling good.
"It was good to get 60-70 minutes on Saturday and I'll get sharper and hopefully score the goals that will keep Birmingham in the Premier League."
Martins is also dreaming of playing at the new Wembley for the first time with Blues facing Arsenal in the Carling Cup final on February 27.
"The Carling Cup final would be a great game to be involved in. The team has done a fantastic job to get to the final.
"I'm very happy to be in with a chance of playing against Arsenal. The Carling Cup is a very big Cup, very important, and I hope we can win it.
"I've never played at Wembley, so that would be the first and I'm very excited about the possibility of playing there."
Birmingham boss, Alex McLeish, has no fresh injury worries as his side searches for a third successive league win.