EAGLES LACK STAMINA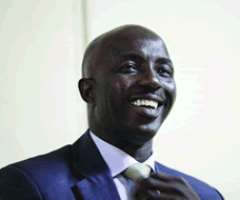 Siasia
Head Coach of Sierra Leone's national team, Christian Cole, has advised Super Eagles' Technical Adviser, Samson Siasia, to work on the stamina of his players before Nigeria's forthcoming Africa Cup of Nations qualifying match against Ethiopia.
The FIFA football instructor spoke to Saturday Sunsports shortly after his team's 2-1 loss to Super Eagles in Wednesday's international friendly tie at the Teslim Balogun Stadium in Lagos.
'The Super Eagles were good in the first half, but were not able to move behind the ball quickly in the second half. They got tired in the second half and my boys took over the game. That was why we were able to score our goal,' the coach stated while assessing the performances of both sides after the encounter.
'My advice to Coach Samson Siasia is that he should work on the stamina of his players because they played in only one half of the match against us and got tired. He also needs to work on their patience. You cannot play long ball all the time, you must watch what your opponents are doing and adjust to their pattern,' he added. Cole noted that the Siasia-tutored team was competitive in its approach to the game, but said it lacked the maturity of a typical Nigerian side.
'The current Eagles as a team is not mature, but they played competitive football. They pushed forward, though I did not see a player in the mould of Emmanuel Amuneke in the squad against my team. The typical Nigerian team was far better than the current Super Eagles. There were more mature and skilful players in the last team, but the current team has young players,' he observed.
Although Cole scored the referee low for what he described as a one-sided officiating, he, however, rated the standard of Wednesday's match very high just as he expressed satisfaction with the result achieved by his team against a highly-rated Nigerian team. 'The officiating was very poor. The referee was trying to destroy the match. As a referee, he ought to have assisted both teams, but his officiating was one-sided. However, the standard of the game was very high, as high as 90 per cent.
'Nigeria has big, mature players. We also have some big players, who we blended with home-based players. So, the game was high. 'I'm quite satisfied with the result of the match. Coming to Nigeria and losing 2-1 is a very good result, my brother. Think about the pedigree of the Nigerian team, it's a big achievement,' the coach relished.