I WANTED TO COMMIT SUICIDE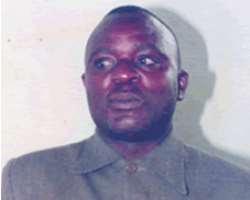 Kpakor
Back in the days of Dutchman Clemens Westerhof, several names, including that of former BCC Lions of Gboko and Abiola Babes midfield commander, Moses Kpakor, ran riots over Super Eagles' opponents.
In fact, Kpakor became an icon of sort after winning the Cup Winners Cup with BCC Lions under the guidance of Coach Amodu Shaibu. And by also being a member of the Super Eagles' squad that won silver at the Nations Cup in Algiers, life was indeed worth the living, more so, after a successful playing career and many travels around the world.
Kpakor was appointed team manager of Lobi Stars to work with Dominic Iorfa as chairman. Unfortunately, things did not go down well with both of them and Kpakor was shoved aside alongside his averred loyalists, Barnabas Imienge and former junior international, Peter Ogaba. Frustrated by the turn of events in his life, coupled with several disappointments and betrayals by his friends and close associates, Kpakor confessed that he, at one point, contemplated about taking his life to put an end to his sufferings.
'Whenever I look back in life, I regret that things are going the way it is now. I was working in Ilorin with Coach Clemens Westerhof at the Football College of Excellence before I was called back home by Governor Gabriel Suswan to help Lobi Stars. On my return to Makurdi, I gave my best to the team and we were beginning to rediscover the lost glory of the team, when all of a sudden things changed.
'My salary was stopped. I wrote to the club's management to pay my salaries, but nothing was done. I met the governor on several occasions to do something about my condition. He assured me that he was going to call a meeting of the stakeholders to resolve the skirmishes, but as I speak with you, this is two years and nine months after I made those moves, yet nothing has been done and I have not been paid for all this while.
'It baffles me that this kind of thing is happening to me in Benue, my own state.
What if I was suffering this kind of fate elsewhere, would my state not come to my rescue? I started my club football career at Lobi Stars, so what offense have I committed to warrant the treatment I'm receiving from the club. I'm traumatised to the point that I had thought at some point that the best thing for me was to take my life.
'That evil thought kept coming to me and I must confess that the devil was presenting suicide as a very beautiful way for me to end my worries. However, I'm happy that God intervened at my point of need to save my life. I've put those thoughts behind me because I have to live and be strong for my family and friends.
'It was after I conquered the evil thought that I returned to school and I have no regrets about my decision. If I had gone ahead to commit suicide, I would have left my family in turmoil and moreover, I would not be here to prove a point,' he stated.
On Uche Okafor's suicide saga in USA
When I heard about Uche Okafor's suicide in US, the first thing that came to my mind was that it was not true. The Uche Okafor I knew could not have taken his own life. In fact, he was the last person to have contemplated such an action considering his dreams in life. His case was not like mine and yet I conquered my nasty situation.
I recall when we met in Lagos a few years back during the Okwaraji Memorial Match, Uche told me of his plans to become a pastor and we laughed over it. In fact, I still hold the opinion that Uche did not kill himself. So, the US authorities have a lot of work to do to unravel the cause of his death.
Why I'm back to school after 28 years
I returned to school basically because I realised that football was changing everyday. A lot of changes have taken place in the game and what I had before now was no longer good enough for me.
Having retired from the game, I found out that there was nothing for me to hold on to at the end of the day. The idea of going to school is to improve myself because I just have to start my life afresh. It has not been easy meeting up with school fees and keeping the family since I returned to school. But I'm determined to brave through it and just get cracking without giving up.
I've come to understand that many of our football coaches are not trained. Many of them only fete in their old glories, which will not take them anywhere. I've deservedly had my time in football, but I think that there's need for me to get a degree, which I can fall back on any day.
It has been good so far. The support I get from my fellow students and lecturers has been fantastic. Schooling is never late for anyone and I must say that it has been good for me. Reading Physical & Health Education at the Benue State University (BSU) is for me very important because I'm returning to my roots as a teacher.
I was a Grade II teacher before taking to football and I believe that teaching is synonymous with coaching, so I'm comfortable doing it. It has not been easy being in school at my age, there are times one is torn between the family and lectures, but I thank God that I made up my mind to start the course and I will do my best to finish it.
People around me feel that I'm a role model to many and I give them their respect. Having been involved in football for a long time and having travelled round the world, I think I would say that I'm fulfilled, but there is a whole world of difference when you are in a school environment. One thing I've realised is that if anyone has had the misfortune of not going to a higher institution like the university, a lot of things would be missing in the person's life.
Lobi Stars' fortunes
The problem of Lobi Stars is known even in the streets of Makurdi. In all honesty, what Lobi lacks is management. Management is constituted by a set of people, who are brought together with defined roles to achieve a common purpose. But at Lobi Stars, only one man is everything. The man is the chairman, vice chairman, technical adviser, coach and accountant of the team, and when one man can do everything for the club, there is no need to have other people on board.
The state government is aware of the problem, but since it decided to turn a blind eye to it, things would remain the way they are until such a time when the authorities deem it fit to correct the anomalies in the club.
Siasia as Eagles' coach
I believe that Siasia has a great deal of chance to succeed with the Super Eagles. He played for the national team for a long time and has been in the business of coaching for a long time too. He is in a vintage position to succeed and he knows what it takes to go all the way. He knows the problems of Eagles, which he was a part of. So, he stands a good chance to make his mark with the national team.