RESPECT FIFA, STEER CLEAR OF FOOTBALL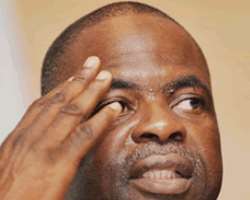 Nigeria's former FIFA and CAF executive member, Amos Adamu, has been advised to respect the recent ruling of the world football governing body, FIFA and stay off football matters for good.
Former Super Eagles' goalkeeper trainer, Joe Erico, handed this piece of advice to Adamu, who until his recent travails was also the president of West African Football Union (WAFU). Adamu has been on the radar over an alleged demand for cash to vote in the 2018 and 2022 World Cups hosting rights bids won by Russia and Qatar respectively.
FIFA's Ethics Committee, which investigated the scandal, had slammed a three-year ban on the former director general of the National Sports Commission. But Adamu, who refused to bow to pressure, went on to appeal against the charge.
Only last week, FIFA, which revisited the matter, reaffirmed the decision of its Ethics Committee, maintaining that Adamu's three-year ban still stands.
However, recent reports have revealed that Adamu had served notice that he was headed for the Court of Arbitration for Sports (CAS), maintaining that he wanted to clear his name of every impropriety levelled against him. He hopes to upturn the FIFA's decision and return to his seats at both the continental and global football bodies.
Speaking to Daily Sunsports, Erico, who once coached the defunct NEPA FC of Lagos, expressed anger and disgust at Adamu's recent moves, and, therefore, charged the former chief executive officer of COJA to keep his hands off football and take some rest.
'Each time Dr Adamu plays his next card on the chess board, I get nauseated,' Erico fondly called 'Jogo Bonito' fumed. 'The question everyone is asking is: must it be Adamu all the time? Must this man who has ruled Nigerian sports for so long be the only one fighting to represent the interest of the country at international football arena?
'I once worked as coach of the Super Eagles and was fired and heavens did not fall; that is the tradition in football. There is a time to be hired and a time to be fired. Since Adamu has been representing Nigeria for so long and has now been fired, he should go home and rest for good.
The world is all about live and let live. You play your part, leave and allow others to play their own part.'
Recalling the incident that led to Adamu's ban, Erico noted that it ought to have taken a chain of events to nail the master of the act.
'The totality of what is happening to Adamu is a game. He was alleged to have asked for money to vote for a particular country seeking for World Cup hosting rights. That was a game. Some journalists targeted him, as alleged and he fell for the bait. That again was a game. And in any game you are targeted, if you fail, you fail and if you win, you win.'
Looking at the Adamu saga, which has grabbed bold headlines around the world, Erico said there were lots of lessons to be learnt from it.
His words: 'If FIFA insists that Adamu is guilty and he continues to fight to exonerate himself, it simply means that if the case was to be within Nigerian jurisdiction, he could have long been freed from the charge and would even be celebrated.
'It also means that what is termed an offense elsewhere around the world is a thing of celebration in Nigeria. What that portends for us is that we have to be very careful with the way we do things in this country. For now, FIFA has spoken and it has spoken!
'Over time, the body has been accused of impropriety. So, it has to come out and clear its name, even at the expense of using Adamu's case to launder its image and shine, it has to begin from somewhere. There are no sentiments about it, and I advise Nigerians to stand up with the rest of the world and call a spade a spade.'
Erico is equally unhappy that some Nigerians are playing politics with Ibrahim Galadima's appointment as a replacement for Adamu.
It would be recalled that the former Nigeria Football Association (NFA) chairman's name recently pooped up as a substitute for Adamu on the boards of both CAF and FIFA. But in a sudden twist, the move was halted, apparently as a ploy to wait for last week's FIFA's verdict on Adamu's appeal. If the verdict had come out in favour of Adamu, that could have turned out as a ticket for 'Mr Fix It' to return to his office.
Erico said it was up to Galadima to decide on how to go about the whole length having seen the intrigues trailing his aspiration. He added that the whole scenario places a moral burden on those in authority if they still have their conscience intact.
'It is left for Galadima to determine what he wants. He has seen the wave of intrigues trailing his ambition, so if he is still interested in the race, it is up to him.
'In all, we have to move fast and get somebody to replace Adamu both in CAF and FIFA before we lose those opportunities. Whoever that should succeed Adamu should bear in mind that the man's big fall should serve as a huge lesson to all of us, because what led to his fall is a huge moral burden that will live with us for ages,' he concluded.