SIASIA: NEW EAGLES MUST FLY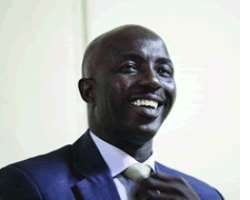 Samson Siasia has declared that the new senior team Nigeria is building must live up to the name of the 'Eagle' and fly!
In his first official meeting with the players with whom he intends to re-build the team, at the Eko Hotel and Suites, Lagos on Tuesday morning, the former international striker made it clear that there would be no 'big man' in the side, but all must respect the team Captain, Joseph Yobo, and also respect one another.
'Nigerians want to see a new team, with a new and positive attitude and we have our work cut out trying to meet the high expectations of a people who have tremendous passion for the game', Siasia said. He added: 'We must respect one another in this set-up. We also have to work hard. It is important that we get some good results as we start, so that our people will forget the disappointment of the FIFA World Cup finals in South Africa.
'You may think that the Sierra Leone' match is a friendly and a small game, but Nigerians will begin to judge us from this first game, and it is very, very important that we show great spirit. We must fight for the ball and play for one another.
'This match will prepare us for the African Nations Cup qualifying match against Ethiopia coming up next month. And we all know we must win all our other matches in the qualifying series. 'What I know and what I can tell you for sure is that Nigerians are good people. If you show the spirit and you fight for the ball, they will support you all the way', said Siasia.
The Super Eagles had their first training on Tuesday morning on the turf of the Teslim Balogun Stadium, after which they interacted with media representatives.
Nigeria take on Sierra Leone in an international friendly game at the Teslim Balogun Stadium, Surulere, Lagos starting from 7pm on Wednesday.