AKWA IBOM AND BUYING OF VOTERS' CARDS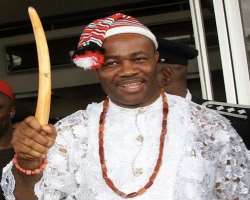 AKWA IBOM STATE GODSWILL AKPABIO.
It was first reported in the Sunday Champion newspapers of 30th January, 2011 that Governor Akpabio's aides have been mopping up voters cards from ignorant registered voters. Giving credence to this was another report in the immediate last edition (February 6 - page 4) of the same newspaper and news item posted on the same date by the online publication, www.thewillnigeria.com (THEWILL) - both quoted the INEC Resident Commissioner, Mrs. Maria Owi.
Mrs. Owi revealed this much when she addressed the Christian Youth Network at the Ibom Hall in Uyo on Thursday February 3, 2011. She was quoted by the Sunday Champion thus that; "faceless individuals were going about to buy the voters cards in the State". She told the online publication thus that; "Yes I have received a lot of calls that persons suspected to be agents of the state government are going about buying voters' cards from some members of the public. I have not been able to arrest any suspect; the last time they called me I arrived late so I couldn't get them but we are still at alert," and that the "Areas of the state where Akpabio's men have executed their scheme with so much intensity are Uruan, Urunuko, and Itu local government".
A top politician in Itu local government area, who is of the Peoples Democratic Party (PDP), who craved anonymity told THEWILL online publication that some women leaders are being offered as much as N10, 000 for each voter's card they purchase from ignorant villagers who are then handed a photocopy of their original card.
It is only in Akwa Ibom so far (among the 36 States) that such subterranean activity has been reported. Nevertheless, there has been counter-accusation from the agents of the government that ACN and ANPP are molesting registered voters in the State, but those parties have refuted the insinuation.
One would like to know how Professor Attahiru Jega would handle this glaring case and report that emanated from his Resident Commissioner in Akwa Ibom. It is a litmus case and food for thought for him. Meanwhile, we need more of the incorruptible umpires like Mrs. Maria Owi, the INEC Resident Commissioner in Akwa Ibom. It is likely that voters' cards purchase are going on also in some other States.
Obong Okon Emerson, 195 Awolowo Way, Ikeja, Lagos. [email protected]
Disclaimer:

"The views/contents expressed in this article are the sole responsibility of the author(s) and do not necessarily reflect those of The Nigerian Voice. The Nigerian Voice will not be responsible or liable for any inaccurate or incorrect statements contained in this article."
Articles by thewillnigeria.com