THE SHEKARAU CHALLENGE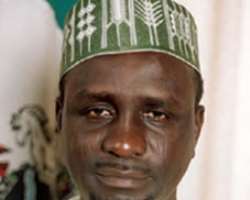 Shekarau
In about three months, Nigerians will be going to the polls to elect persons of their choice that would lead them in the governance of the country, at least, for the next four years. It was 50 years ago Nigeria got her independence from her British colonial masters.
Since all these years, the country has been on the search for good governance. She moved from one system of government to another including parliamentary, military and presidential systems. For the past eleven years, Nigeria has been practicing presidential system of government based on popular participation called 'democracy.'
This system of government, according to American definition, is a government of the people, by the people and for the people. In order to achieve this concept of democracy, parties are formed based on ideological inclinations, upon which each political party seeks to administer the people of the country.
America, the architect of modern democracy, practices two party system namely, the Democrats and the Republicans. Nigeria, however, due to her peculiarities, practices multi-party system of 52 registered political parties, with fractured ideologies. This makes it easy for its practitioners to hop from one party to another with reckless abandon in search of greener pastures.
Frankly speaking, the story of governance in Nigeria since 1999 has been a sad point of reference. In spite of the human and material resources the country is endowed with, we are still wallowing in miasma of hopelessness mainly due to corruption, greed, sentiment, avarice, nepotism, mutual suspicion and gross indiscipline among the leaders and the led. As a result of these, everyone groans on daily basis. These normally lead to one form of crisis or the other.
As a result of the flip-flop policies of government in the areas of education, health, energy and power, security, industry, agriculture, etc, things became abysmally unregulated. The country is so much in a mess today that both the rich and the poor adopt spurious survival strategy and engage in short cuts as means of survival.
It is also a sad note to observe that the past leaders that caused severe havoc to Nigeria's socio-economic and political advancement are staging a come back to cause another heavy devastation to the country.
We must try to uncover such leaders and avoid them fooling us again. We should also tell them that we have competent men of God and integrity that have also been tested and trusted and among them we expect the people of Nigeria to decide who should hold their trust in 2011 polls. We should be bold to point out that despite all unfortunate problems lingering around; one is convinced that there is someone that could still do the country good if given the chance. This is where the present people's governor of Kano State, Malam Ibrahim Shekarau as alternative remedy to the problems of Nigeria comes to play.
Indeed, we are optimistic that with Shekarau's kind of leadership, especially when one looks at the unprecedented achievements he recorded for the people of the most populous state, Kano, there is no doubt that as a new generation politician; he will be able to get rid of the agelong political and socio-economic problems that have been bedeviling the country.
As a gentleman of impeccable character, he cannot allow any social, political and economic convulsions to continue to happen to Nigeria and Nigerians.  As a matter of fact, there are so many things that differentiate the governor of Kano State from most of his colleagues in other states of the federation. It is this distinctive approach to issues that anyone who truly has concern for Nigeria should ensure Shekarau's choice for President in 2011.
A well respected media columnist with The Sun newspapers, Mr. Femi Adesina commented on the man, Malam Ibrahim Shekarau in his back page column of 28th May 2010, titled, 'Shekarau: the last man standing' as follows: 'When he retired from the civil service as a permanent secretary, he had no house of his own. He still lived in a rented apartment. Why? Major part of his earnings had been given to charitable and religious causes.
When he went into politics, and decided to run for governor, he had no vehicles to prosecute the campaign. He did most of it on foot, from house to house like an itinerant preacher. When his friends and well- wishers eventually contributed cars to the cause, buying fuel was a problem. There was a time he went on campaign outside Kano metropolis, and the car ran out of petrol. The candidate was stranded, and had no money to refill his tank. A supporter came to the rescue.
'Also, hear this. His party, the All Nigeria Peoples Party (ANPP) had a national programme in Sokoto. Till the morning of the event, he was not sure he could attend. But at the nick of time, a friend made money available. On the way to Sokoto, he had a burst tire, and by the time he bought a new tire and tube, attended to the welfare of his supporters, he had nothing left to pay the hotel bill. The candidate called on most of his old friends in the old city, but by a quirk of fate, they were all out of town. How does he check out of the hotel without being disgraced? Eventually, someone bailed him out of the predicament.
'The story of Malam Ibrahim Shekarau is like something straight from an inspirational book. It is the classic from grass to grace tale, the story of a man who knows what it is to suffer lack, to have serious need, and to be at one's wits end due to financial deprivation. Have you been in such a fix before? Then, it gives you a kinship feeling, camaraderie with Shekarau. You feel this is one man who knows what the ordinary people go through, he's been through it, he itches just like us and scratches as hard. He's really one of us.
'As a senior civil servant, Shekarau had no money, but he had plenty goodwill. So much was the love people had for him that by year 2000, three clear years before general elections, Rabiu Musa Kwankwaso, the incumbent governor, was rabidly and mortally afraid of him. He then began to toss Shekarau around, moving him from one position to the other, even demoting him in the process. And one distraught messenger in the man's former office declared: 'By the grace of God, you will be governor; you will take over from him.' Three years later, the prophecy came to pass.
'Wouldn't you want a man like Shekarau to be your president? I sure do. He knows where the shoe pinches. He's been in the valley of life. He's been on the mountain top. He has suffered lack, he has known plenty. He knows how to abase, and how to abound. And most importantly, he has kept his contact with the people, the very lifeblood of his ascendancy to power. See how he has personally handled the issue of victims of the Pfizer drug test, and you'll appreciate what I'm talking about.
'Before 2007, there was a giant size jinx in Kano, which no one had been able to break, not even a colorful politician and crowd puller like Abubakar Rimi. No governor ever had a second term. But Shekarau did it. He came, he saw, he conquered. Next year, he will conclude his second term in office, and is now eyeing the presidency. Why not? For a change, let one of us, who has known lack; ascend to the highest office in the land. God is the one who raises and dethrones kings, He's the one who takes the lowly, and installs such in elevated positions. Let God do it for Shekarau.
'At a time ANPP governors were falling like ninepins, crashing like a house built with spittle, Shekarau stood his ground. In the last dispensation, Saminu Turaki of Jigawa and Adamu Aliero of Kebbi defected to the PDP. Attahiru Bafarawa of Sokoto went to form the Democratic Peoples Party (DPP). In this epoch, we have seen Mahmuda Shinkafi of Zamfara and Isa Yuguda of Bauchi decamp. The ANPP (as APP then), which had nine governors in 1999, has now dwindled to three: Shekarau, Ali Modu Sheriff of Borno, and Ibrahim Geidam of Yobe. You never knew who would crumble next. But Shekarau came out boldly to say if he ever left the ANPP, he would first resign as governor. No wonder, Nobel Laureate, Prof Wole Soyinka visited Kano, and called the governor 'the last man standing.' He praised the courage of conviction displayed by Shekarau, and recommended it to other Nigerian politicians.'
It is rather very unfortunate that at 50 years of our independence and 11 years of our uninterrupted democracy, Nigeria is still wallowing in abject poverty, corruption, nepotism, ethnicity, sectionalism, illiteracy and other unfortunate ills that have bedeviled the country. Sadly too, the military class that had had cause to truncate our democracy had also contributed immensely to the socio-economic and political woes that have become Nigeria today. The tragic part of it all is that we hardly reflect on these sordid experiences and these have made us to always stumble over the same stone many times without number.
The history of great and successful men is sometimes narrated in different forms, depending on the mindset of the narrator. Naturally, justice demands that everyone should be fair in whatever one does or says about others. However, the dirty politics of Nigeria does not seem to respect the fact about being just. Even the architects of the country's independence of 1960 as Nnamdi Azikiwe, Obafemi Awolowo, Ahmadu Bello, Aminu Kano, Herbert Macaulay, Abubakar Tafawa Balewa, etc were not free from the bad and envious politics in Nigeria. As we know, the envious spends his days destroying himself by feeling sorry for that which he could not achieve but others have. He feels sorry and regretful and desires all people to live in misery while plotting to deprive them of their happiness.
In Nigerian politics, it is not easy for a pious, straightforward and godly person to thrive. It is like a white horse passing through a dark society. When Malam Ibrahim Shekarau, a simple, honest and dignified teacher went into politics in 2003, he was convinced of the fact that he was going to liberate the people of Kano State and correct the various anomalies in the governance of the state. He simply had mission and vision to accomplish, even if it means subjecting himself to trials and tribulations. God, who knows the good mind of Shekarau, helped him to win the governorship in 2003, in spite of his financial incapacitation.
The people's governor dedicated his first term of four years to human development and awoke the people's consciousness on societal reorientation popularly called Adaidaita Sahu. There are other marvelous achievements Shekarau recorded in his administration between 2003 and 2007 as compared to what his predecessors did.
There is no doubt that Nigeria requires a credible, detribalized, honest and sincere President in 2011. This is why the man, Malam (Dr) Ibrahim Shekarau should simply strike our mind. God bless Nigeria and Nigerians.
Saka Raji Audu writes from Kano.