EUROZONE UNEMPLOYMENT PERSISTS AT 10% IN DECEMBER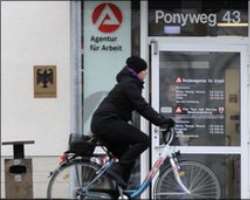 Since November the number of people unemployed has fallen by 19,000 in the EU
Unemployment in the eurozone remained at 10% in December, unchanged from the month before.
The figure for the European Union as a whole also remained unchanged from November at 9.6%.
Eurostat estimates that 15.7m people were out of work in the 16 countries that then made up the eurozone and 23m were out of work in the EU as a whole.
Since November, the number of people unemployed has fallen by 19,000 in the EU.
In the eurozone area the number of unemployed has fallen by 73,000.
November's eurozone figure was initially estimated as 10.1%, but this was revised down to 10%, meaning the unemployment rate was unchanged between November and December.
It has now been at or above 10% for the last seven months.
"The overall unemployment rate fell to 10% in December boosted by an improvement in Germany, where the unemployment rate is at its lowest level since 1992," said Kathleen Brooks, a research director with Forex.com.
"While Germany continues to be the main engine of growth in the eurozone, there was some encouraging news from the periphery. Unemployment actually fell in the Republic of Ireland and remained steady in the other indebted nations at the end of last year," she added.
However, the unemployment rate rose in a number of countries including the Czech Republic, Denmark, Poland and Hungary.
And in Italy, the jobless rate amongst 15-24 year olds hit 29%, its highest rate since 2004.
German data
Germany released figures for the month of January which showed that the unemployment rate had fallen to 7.4% from 7.5% in December.
This was better than expected as economists had forecast the rate would remain at 7.5%.
The number of people out of work in Germany dropped by a seasonally-adjusted 13,000.
This data was based on the German Labour Ministry's own national measurement of unemployment.
Under the internationally comparable ILO measurement, which includes workers not claiming jobless-related benefits, unemployment remained at 6.6% in December.
"Overall employment increased considerably and demand for workers continued to increase," said Frank-Juergen Weise, head of the Labour Office.
German business confidence recently rose to its highest level in 18 months, driven by forecasts of strong exports.
While falling unemployment should help boost German consumer spending, there are concerns that firms may face a shortage of skilled labour.
By way of comparison, unemployment was 9.4% in the US and 4.9% in Japan.