JJB SPORTS IN TAKEOVER TALKS WITH JD SPORTS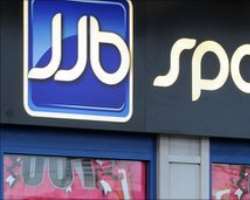 JJB has struggled with weak sales and issued a profit warning in November
JD Sports is in talks over making a takeover bid for High Street rival JJB Sports, the two companies have said.
JD said it was in "early stage discussions" with JJB's board about launching an offer.
A merger would create one of the biggest High Street chains in the UK.
But Wigan-based JJB has been in financial difficulties amid falling sales, and in December announced plans to raise £31.5m from shareholders.
That came three weeks after warning it was likely to breach the terms of a key banking agreement.
Sales in the six weeks to 19 December were down 15.7% on last year, JJB said. Bad weather conditions had continued into the pre-Christmas period and had "significantly affected" sales, the company said.
JD Sports has done better recently, and last month said it had shrugged off the winter weather to boost sales during Christmas trading.
The group, whose operations include 350 JD Sports and Size outlets, said like-for-like sales were up by 2.5% in the five weeks to 1 January.
It moved into the French market last year, buying Chausport, and is also planning to expand its fashion business Bank, which is mainly based in northern England and the Midlands.
"There can be no certainty that an offer will be made by JD Sports Fashion for JJB Sports, nor as to the terms on which any offer might be made," it added.
And JJB said: "The highly preliminary nature of these discussions is such that there can be no certainty that any offer will be made or as to the terms of any offer."