NAVAL PERSONNEL TORTURE MAN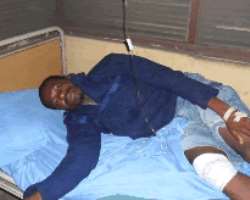 Onyirianya
Naval officers are at it again. The incident two years ago involving them and Uzoma Okere in Victoria Island, Lagos where their assault on this lady cost them N100m has not been a deterrent.
This time, their rage visited Chidozie Onyirianya with 10 naval men allegedly beating him to a pulp on December 31 at 156 Kirikiri Road, Olodi Apapa.
Trouble started for the victim on the fateful day when he was sent to lodge some money by his brother in-law, Abuchi Ezekiel Alisigwe and was called back by the manager of their company only to confront about 10 naval personnel waiting for him. The naval men whisked him away to their office and meted inhuman treatment to him. According to Chidozie, N850,000 he tied at the back of his Fenco CGL 125 motorcycle with registration number LAGOS QR202AAA, is still missing together with the motorcycle. 'My in-law had budgeted the money for a car he wanted to buy.
But because he could not buy it the day he had intended, he wanted the money lodged in the bank pending the day he would need it. The naval men also took my wallet with the N35,000 in it.'
Chidozie said, 'I was on my way to the bank for an errand my master and in-law, sent me when I received a call from the company manager to quickly come back and assist him in doing something. I thought that he was in trouble so I drove back to the office with my motorcycle, only to discover that naval officers were waiting for me. When I saw the first two officers, I did not even know that they were waiting for me. As I moved further, into the compound, I saw other eight who immediately rushed at me and started beating me. They mercilessly flogged me with their belts. While some were kicking me others punched me.
It was like a film to me because I had no issue with anybody before the incident. I could not understand what was happening. I shouted for help to no avail. No help came because people were afraid that they might transfer the aggression to them. After beating me like a thief, they handcuffed me backwards and dragged me into a red sports car with registration Number KJ 876 JJJ. They took me to NNS and put me in a cell. They did not just put me in a cell; they hung me till the next day. On January 1, they took me to my in-law's house at Iyana-Oba but he was not at home. They informed the little son at home that they came to arrest him. They instead arrested the little boy leaving the girl of three at home alone. On our way, they called Abuchi's wife and told her to go home from where ever she was to take care of her daughter who was at home alone. The next day, they released Obinna and drove him in the same car to a place they boarded him in a commercial bus going to Mile Two. Only God knew how he got home that day.
Abuchi, the owner of the money fingered one Prince as the mastermind of what happened. According to him, ' when my business started going down, 15 years ago, Prince, my friend who lived in Germany came back to Nigeria and promised to raise capital for the business when he saw that I had no capital. I agreed and he asked me to take him to my landlady, which I did. I introduced him to her and later she advised me against business partnership with Prince. But I assured her that Prince was not bad. We started a joint business and he put the shop in order. I have done this business with him for over 15 years now. Not quite long we started the business, he brought a boy called Henry and made him the manager but I did not complain. After some months, he brought three others who he has all settled. I am the only one remaining to be settled.
In first week of December 2010, I travelled to the village to see my mother who was ill. While I was still there, Chiedozie called me that someone was pricing an engine I had in the shop. I told him to sell it at N50,000. When I came back, I was told that police were looking for Chiedozie because of the engine but I told the person that I was aware that the engine was sold.
But he said he had problem with his business partner, and did not even know that he was in town. 'When I could not trace my in-law, I informed my lawyer, and we had to report the incident to the police that joined in searching for him. The Navy wrote to Area B Police Command, Apapa, to refer the case to them.
At the Trinity police station, Prince was asked why he detained the boy and why he involved the Navy in the matter? When the police saw Chiedozie after his release on January 4 they felt sorry for him. The DPO asked me to get a photographer to take a shot and gave us a letter to take him to the hospital because he looked so sick, coughing constantly as a result of the beating and was unable to stand.'
He said the naval men 'ransacked my house and till today, I could not find N35,000 I left at home and a Nokia E71 handset, belonging to my wife.
Chiedozie who was treated at an undisclosed hospital in Ajegunle, has since been discharged.
The DPO of Trinity Police Station, when contacted, confirmed the case but said he was not aware of any navy official beating up the victim.
However, Navy P.R.O, Lt Commander, A.U Anioke, when contacted, said he was not aware of the case but a Navy source who pledged anonymous confirmed that the boy was actually arrested on 31st and handed over to Area B Command the same day. According to him, the Navy did not torture the boy, stressing that if he were, it could be from either Area B Command or Trinity Police Station.
Saturday Sun findings reveals that the boy was handed over to Area B Command on January 4 and was not manhandled by the police.
However, the Navy when presented more facts about the matter revised itself and said they detained the boy to enable them carry out a preliminary investigation before handing him over to the police.