Two Kwara Commissioners Dump Saraki Jnr For Saraki Snr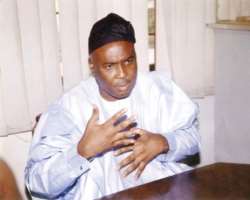 GOVERNOR OF KWARA STATE DR BUKOLA SARAKI.
SAN FRANCISCO, Jan 27, (THEWILL) – As the battle for supremacy in Kwara politics rages between the Peoples Democratic Party (PDP) and the Allied Congress Party of Nigeria (ACPN), two commissioners in the PDP led state government of Dr. Bukola Saraki today announced their resignation from their positions.
The Commissioner for Environment and Tourism, Chief Tunji Ayeni, and Mrs. Caroline Titilayo Adumo, Women Affairs Ministry have defected to the ACPN, where the strongman of Kwara politics and father of the incumbent governor of the state, Dr Olusola Abubabar Saraki, popularly called Oloye, has deployed his resources to install his daughter, Gbemisola Saraki, as Governor of the state in the April Governorship election.
Oloye has vowed to cripple the PDP in Kwara State by ensuring the party is defeated in the general election.