NEW YEAR BLUES FOR IBADAN RESIDENTS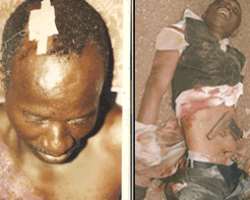 A victim & The dead armed robber.
In the minds of many residents of Iwo Road, Eleyele, Apata and other parts of Ibadan, the Oyo State capital, the last Christmas and New Year holidays would remain indelible. A gang of armed robbers stormed the areas during the holidays, unleashing terror on homes, offices and fuel stations.
Several people were robbed of their property during the reign of the robbers. But the police eventually overpowered many of the armed men. Some were shot dead while others escaped with injuries.
Mrs. Olubunmi Richard, who had an encounter with the robbers in front of her house, was picked up in her car. She was later dumped along the Lagos-Ibadan Expressway.
Daily Sun learnt that Mrs. Richard had just returned from the office around 8.30pm. As she alighted from her vehicle to open the gate of her house, a gang of armed robbers suddenly materialized from nowhere, seized her and hurled her back in her car. She was later driven in the car to the Lagos-Ibadan Expressway. There, her captors dumped her and took the car away.
But the robbers ran out of luck when one of the tyres of the Toyota Camry car suddenly got burst, forcing the bandits to abandon the vehicle.
'There was a total blackout in my area and that made it easy for the robbers to succeed in their operation,' she said.
She further said that she was dropped on the expressway around 10.30pm, adding that a good Samaritan later assisted her to Ibadan where she reported the incident at the Felele Police Station. She said her mobile phones and other valuables were also taken away by the robbers.
'It was the police at the Toll Gate that rescued the car and took it to their station,' she said.
Another gang of armed robbers raided over five petrol stations and robbed the attendants along Eleyele Road, Ologuneru area down to Gbekugba in Apata.
After they had been informed of the incident, men of the Special Anti-Robbery Squad (SARS) in joint operation with men from the Apata Police station attacked and overpowered the five gang armed robbers. Two of them were shot dead and others took to their heels with bullets wounds.
It was gathered that over 10 people were injured in the incident. The victims were taken to private hospitals in Ibadan as well as the University College Hospital (UCH) Ibadan.
A victim, Madam Olubunmi Ogunsola told our correspondent that she was surprised that the armed robbers could actually rob her in the afternoon when she was returning from church.
'I was coming from the church harvest and we stopped at Polo Club, Eleyele Road. I came down to buy a bag of pure water and suddenly, a young man brought out his gun and followed me to my car. The young man required for dollars and I co-operated with them. Suddenly they used the gun to hit me on the face and I had to hand over all my dollars and naira to them. They also hit my driver.
'I cannot believe this mess. I only thank God that they didn't shoot me. We learnt that they were coming from an operation at Eleyele and I just fell a victim,' she explained.
Mrs. Ogunsola added that while they were going, the robbers sprayed her car with bullets and 'I had to run to Eleyele. The operation lasted just like fifteen minutes,' she stated.
Inspector Usman Dimka of the Surveillance Sky-net informed Daily Sun that they heard a distressed call that armed robbers were raiding some places at Eleyele, according to him, his men quickly went and laid ambush for them with the joint operation with SARS and the officers from the Apata Police Station.
'We had an encounter with them and we shot two of them dead while some of them escaped with bullets wounds.'
Oyo State Commissioner of Police, Mr. Adisa Bolanta told Daily Sun that the armed robbers came with full force to rob the entire Ibadan during the festive period but that the police overpowered them and dealt them a blow.
'Two were killed at Gbekuba, Apata Area and some arms and ammunitions were recovered. We also recovered jewelries as well as two hundred and fifty seven thousand and four hundred and seventy five naira and two laptops. The cars that were snatched at Felele Road, Iwo Road at Holy Trinity were also recovered from them,' he said.
He further said that one woman was shot on top of okada, while two other persons were shot dead by the robbers. Five, he said, were injured and were taken to the UCH.
'We appreciate the efforts of those who called us on phone and the vigilante who worked with the policemen to kill the armed robbers,' he said.