FAYEMI FORWARDS FOI BILL TO EKITI ASSEMBLY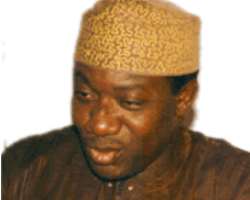 Ekiti State Governor, Dr. Kayode Fayemi, has forwarded the Freedom of Information Bill to the House of Assembly for passage into law to ensure the entrenchment of probity, accountability and transparency in governance in the state.
The governor also declared his intent to construct a ring road in Ado-Ekiti and change the face of the state capital to make it a city that befits its status as the seat of government describing the present physical condition of Ado-Ekiti as an 'eyesore'.
Fayemi who disclosed this yesterday while featuring on a one-hour live interview programme on the radio and television channels of the Broadcasting Service of Ekiti State (BSES) to mark 100 days in office also promised to use agriculture and solid mineral to boost the economic profile of the state.
The state-owned media outfit which went off air since September last year had undergone restructuring, re-engineering, repackaging and equipping with modern broadcasting equipment by the Fayemi-led administration in time for the marking of 100 days in office.
While noting that his administration was open to public scrutiny on how government was run and how public funds were being spent, Fayemi disclosed that he had sent a bill on Freedom of Information for consideration for passage into law.
The governor noted that Ekiti would be the second state in Nigeria after Lagos to forward such a bill to the legislature expressing confidence that such a step would help engender good governance and make government accountable to the populace. Speaking on infrastructural development, Fayemi said one of the key challenges he met on ground was that the ousted Segun Oni-led regime awarded several road contracts with only very few completed.
This, he added, prompted his administration to set up a Contract Review Committee to look into all contracts awarded promising that he would not revoke any contract awarded by the deposed government but had encouraged contractors to go back to site and get the jobs completed.
He pledged that his government would make all parts of the state accessible by roads through the completion of all ongoing road projects stressing that no new road contracts would be awarded until all the ongoing ones were completed.