HOW INEC IS TACKLING VOTERS' LISTING HITCHES, BY JEGA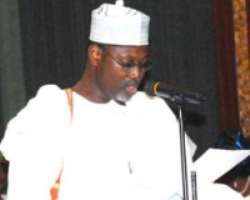 THE Independent National Electoral Commission (INEC) Chairman, Prof. Attahiru Jega, yesterday in Abuja said that the agency would remove all multiple registrations from the final register and deal with culprits.
He told reporters in his office that there have been a few of such reports reaching the commission headquarters, assuring that the malpractice would be squarely dealt with and those involved prosecuted.
Citing a report from a registration centre in Kano that was still being investigated, Jega said: 'In Kano, I received a report, although not confirmed, because nobody has been caught with evidence, but they said that there, somebody who has gone to about 10 different places to register. I said fine that person is heading for prosecution because what is going to happen is that by the time we consolidate data at the state level, we will have information as long as the photograph is there. He may use different names, but his photograph will remain the same and we will catch him, even if we have to use the police to declare him the most wanted person, we will catch them and we will prosecute them.'
The INEC boss who explained that about 117,000 Direct Data Capture (DDC) machines have been deployed to the 120,000 registration centres nationwide, said that nearly all the early problems of the machines have been rectified and registration would henceforth be seamless. He assured that the remaining 3,000 centres would soon be covered by the weekend when the remaining machines were delivered by the contractor.
Jega attributed the teething problems experienced by prospective voters to two main areas of the machines: The fingerprint component which was not registering and the printer.
For the fingerprint, he explained that it was the very high, international standard set by the manufactures that was responsible for the high rate of rejection. It easily rejected fingers with oil, dirt, and others while the printers also disappointed because of the atmospheric dirt. Both problems, he said, have been rectified almost in all centres.
Jega who exuded confidence that the outcome of the 15-day registration exercise would be a huge success, said that the commission would release the total number of voters registered by the end of the first half after which, a day-to-day rundown would be given until the end of the exercise.