BEFORE MANY MORE NIGERIANS ARE DENIED THE CHANCE TO VOTE AGAIN!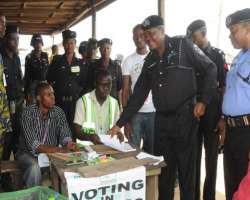 I have been wondering, what is the big issue about registering voters? The ramifications of this poser can be seen in Nigeria today as the nation struggles to register nearly 70million eligible voters within the space of two weeks with machines malfunctioning in many centers, many deployed youth corp members are not competent enough to handle the machines or even use them efficiently. There are still countless locations that are yet to receive the well talked about DDC Machines and there is no doubt that as the deadline draw nigh and many feel the urge to register, the Nigerian touting phenomenon will show up with people needing to pay to register. It has happened before. I hope at least that the pervasive loss of faith in the nation will give rise to new hope, and many more eligible Nigerians will go out to register. Hoping the DDC machines will not fail Nigerians.
Not surprising the Nigerian factor must have come to play in deciding what ad hoc staff arrangement is necessary to ensure a successful voters' registration. No one should be fooled that as much as an average Nigerian youth is tech savvy, majority of the graduates are still tech novice, even graduates with degree in computer sciences. It is also not surprising that the nation has decided on the use of the Direct Data Capture machines and foreclosing all other tools, methods and databases, even those already existing and loaded with biometric data on Nigerians with some degree of credibility. This DDC machine embrace must have come from the Nigerian penchant for solving every small problem with a big solution. The direct data capture technology is not new and has been in use in Nigeria for far over a decade. I could recollect having to go through the data capture process to register for my master's degree at the University of Abeokuta in 2003. This same technology is what the Nigerian Immigration service is using. A good number of Nigerians today are holders of one or more forms of plastic identity card which was issued based on the biometric, employment and residency data collected by the banks, schools, and countless government agencies, embassies to mention but a few.
I hear also that SIM card registration has commenced and is still ongoing by the mobile network providers in Nigeria. Definitely, there must be some level of credibility in the data being collected by these providers. Not being unmindful of the data storage logistics and the legal issue about accessing data collected by private entities, semi-public and public institutions, it is indeed time that INEC and indeed other institutions in Nigeria begin to pay attention to the need to stop re-inventing the wheel. Save Nigerians some unnecessary expenditure and free up funds for other critical and beneficial people oriented projects. Huge expenditures for the sake of expediency no longer count for good governance. And if all other agencies keep receiving huge budgets for data capture purposes that cannot not be used by other agencies of government, independent or not, when shall we begin to see results, cut in wastes and curbing of corruption?
Going by depth and spread of the problems buffeting the current registration process, there is no doubt that many more Nigerians will be denied the opportunity to register and vote. With the current level of electricity supply across Nigeria, I can bet the registration process is running on the backbone of "I pass my neighbor" generators, made in China. Are the DDC machines also made in China? How are my folks in those remote locations across Nigeria, particularly in the creeks and the yet to be connected villages coping with the registration? I hope no one gets left out in this unique moment in our history. There is also no doubt that the registration process is leaving out the Nigerians in diasporas. Or has INEC changed its mind on the possibility of Nigerians outside Nigeria being able to vote in the next or future elections? May be INEC should set up a committee as usual to visit Southern Sudan to know how southern Sudanese were able to vote in the just concluded referendum in faraway places like London or even the neigbouring countries like Kenya and Uganda with a huge population of southern Sudanese. Or better still, our dear president should make a brotherly call to his fellow comrade and bowler hat lover – Salvia Kiir on how it was possible to ensure southern Sudanese living outside Sudan voted in the just concluded referendum.
As the problems affecting Nigeria and Nigerian rages on and multiply by the day, let all who advocate for peace, progress and the unity of Nigeria, particularly the current leadership, do well to ensure every Nigerian feel a sense of belonging in this voters registration progress, the next general elections and many more in the future. There is no volume of appeasement that will save Nigeria, should we deny and disenfranchise Nigerians no matter the reasons. This process presents a unique opportunity to reawakened and rekindle the hope of Nigerians in Nigeria. Let no Nigerian be denied the opportunity to exercise his or her civil rights and the smallest of the civic duties to the Nation.
To ensure that many more Nigerians are not denied yet another opportunity to vote again, I suggest that INEC begins to look at the possible alternatives. With the very tight schedule and burgeoning complaints on the workability of the machines, poor electricity supply and the inabilities of the staff deployed, I suggest INEC take this opportunity to expand the options including deploying the data with the Nigeria Immigration Service (NIS) to use as a feeder into the voters' registration. There is no doubt that not less than 10 million Nigerians are holders of the national passport, particularly the new electronic readable version. The NIS should correct me if I am wrong and do give some data please. This way, the efficient or working machines, assuming not all machines supplied are in good working conditions, will be made available to many more Nigerians who wish to register and are yet to have the Nigerian passport and the driver's license. INEC can also explore this as premise to ensure Nigerians in diasporas participate in the electoral process. Not forgetting also many more Nigerians who have the need and urgency to travel out of Nigeria during this jam-packed 2weeks of registration. The drivers' license registration database is also yet another option. Millions of Nigerian today can boast of a driver's license, even if expired.
As the nation's resources continue to sag and many more Nigerians are jostling to have a cut of the shrinking national cake with many more developments needs begging for attention, true leadership in Nigeria must be judged on the ability to judiciously apply resources and not compromising other critical necessities, a list which is as long and as diverse as the length and breadth of Nigeria.
Taofeek Ramat is at [email protected]

Disclaimer:

"The views/contents expressed in this article are the sole responsibility of the author(s) and do not necessarily reflect those of The Nigerian Voice. The Nigerian Voice will not be responsible or liable for any inaccurate or incorrect statements contained in this article."
Articles by thewillnigeria.com