2011: PDP can't win Borno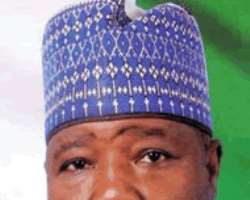 Modu Sheriff
A former commissioner in Borno State and former permanent secretary in the Government House, Alhaji Mohammed El-Yakub, has maintained that Borno would remain  in the grip of  the All Nigerian Peoples Party (ANPP) even beyond 2011. He insisted that his party's greatest challenger, the Peoples Democratic Party (PDP), would not make any impact in the forthcoming poll.
El-Yakub in an interview with Daily Sun, claimed that 'the PDP at the federal level has  done nothing in the state to warrant support from the people during elections,' and submitted that Borno people would continue to support the ANPP 'because of its performances.'
His words: 'Just go and ask our people what the PDP has done for the people of Borno State. What have they brought to this state in their 12 years of being in power? Show me a project that was executed by the Federal Government for the benefit of the people of Borno. Is it road, education, health, just name it? What is the contribution of the PDP led government in Abuja here? So, don't expect such a party to win election here. In any case, the ANPP is a more acceptable to our people and they won't sacrifice development which the party exemplifies to a party like PDP.'
Security situation in the state
The insecurity here is caused by all of us and should be managed by everybody. By everybody, I mean all the people either in government or out of government, working class or business people including the journalist, we are all responsible. We know the people causing this problem; they live with us, eat and wine with us. They are our brothers and sons but we don't want to expose them and counsel them to understand the problem they are causing us and the nation in general. They are not coming from the sky or moon to do what they are doing.
If we are sincere about this problem, we would have been helping the security agencies to fish out these miscreants. Can anybody say he doesn't know what his son or daughter is doing, you know it. Let's expose them. This same thing is applicable to other crimes or offences. That is why I say we are not sincere to ourselves. If the security agencies are also sincere to their training, they will interpret the laws accordingly and there won't be much problem. I disagree with the view that these boys were used by the politicians and dumped after election. Don't they have parents, teachers or elders in their families? Are politicians using their children during election? Don't they know that my child is in the university before I asked you to come and do bad thing for me in the name of politics?
Can't you tell me straight to employ my own son or children to pursue my political activities. In any case, these men have nothing to do with politics, in fact, they hate politicians and that is one of their grievances.
So, it is wrong to say they took to fundamentalism and killing because they were dumped by politicians after election.
ANPP's performance in Borno
You don't need to be told because anybody that has come to Borno before now and is visiting will attest to the fact that things have changed very well. I don't think there is any PDP controlled state in the country that can be compared to Borno in terms of infrastructural development. The state government has constructed a number of roads and open up the towns and villages. I can tell you that even the opposition party, PDP will agree the ANPP government is trying. But then, you cannot satisfy everybody in governance and there are bound to be dissenting voices.
That is the beauty of democracy; at least somebody somewhere should say he or she doesn't like the government. The people in PDP can say anything but people will not deny the fact that Governor Sheriff has worked excellently well. These PDP people think the Federal Government belong to them but tell me for about 12 years now, what project has their Federal Government executed for the people of Borno?
What benefit have we as a people derive from the ruling party at the national level and as sons and daughters of Borno, what benefit has our people got from their involvement in PDP in terms of road, education, health?
That is why wise men have maintained that PDP is a disaster in this country. As a citizen of Borno, I have not seen any impact from the power they wielded since 1999. They have rather brought sorrow to the people each year. They are just busy pursuing their personal interest.
My local government experience.
The local government administration is a different thing entirely but as a council leader, you need to be at home with your people. The basic thing you need to provide is water, good, comprehensive health services if you have the resources. Our people should have access to quality health services system and this is my first experience in the local government as an appointed council chairman.
Well, what I have been able to do, first I found that the office of the executive occupied by my predecessor needed to be rehabilitated, repaired and made conducive for effective operation because I believe one cannot perform optimally without a conducive office. The chief executive of any institution, the local government inclusive, ought to have a comfortable place to sit for hours to plan his work and ensure proper execution.
We tried to modernise the council chambers and all the offices with communication system so that we can be part of the world. When I came into office I realised that the primary health care hospital we have was bad, structure was dilapidated and I then closed it down for renovation. We have completed the job now and I can assure you the hospital can compete with any of its kind. Our people have started receiving treatment, the nurses and midwives are there 24 hours. I also discovered that only a borehole was working in the whole of Mafa Local Government and it is not fair so I have rehabilitated one of the boreholes which is now serving part of the Local Government and we are drilling additional one.
We also drilled shallow boreholes at Gawa ward four; it has already been drilled and we gave water to the people. The governor has given us the mandate to complete all on going projects before the election time. If you look at the caliber of the appointed caretaker chairmen, you will see that it was a pack of high profile persons -ex-commissioners, retired permanent secretaries, former legislators and advisers to the governor. Interestingly, everybody is trying to make a mark. For me, I have no reason not to work hard because I have been with Governor Sheriff all these while and having seen how he transformed infrastructure in the state, it is just wise for me to make my people know that all the years I spent as a permanent secretary either at the ministries, Governor's office or the Government House was not a wasted period.