In one sentence... Define marriage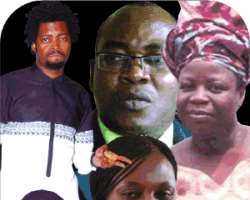 FUNKE FADUGBA, wife and journalist
Marriage is a relationship between a man and a woman of different backgrounds built on trust in each other with the aim of living together in harmony, joy and for interpersonal development.
RONKE AJAYI, wife, businesswoman and pastor
It is the oneness (covenant) achieved by the mutual coming together of a man and woman in holy matrimony in order to achieve cleaving, bonding, completeness and fulfillment till death brings a separation between them, speaking from God's perspective.
IFEYINWA AWAGU, wife, lawyer and social counselor
It is a covenant between man and woman for bonding and procreation of which the consent is indissoluble and irretrievable.
SAMUEL UNWENE, husband and decorative painter
Marriage is a union of love between a man and a woman for better or worse till death do them part.
STANLEY NJOKU, banker
Marriage is a legal union between a man and a woman.
UCHENDU ALAEFULE, husband and medical doctor
Medically speaking it is the state of emotional unification of two anatomically opposite sexes working together physiologically and mentally to achieve a stable, healthy family.
MOHAMMED FAWEHINMI, lawyer
Marriage is a unique, blessed union of a man and woman
FUNKE ADEGUN, CEO Xqwizit
Is the fusion of two souls
MR OLALEYE
Marriage is a union of two honest and committed like minds.
JET ONYEKACHI
Marriage is an institution of continous sharing, learning, tolerance and of giving.
YETUNDE ONIPEDE
Marriage is a legal Union between two persons who share things in common.
enobong kennedy
Marriage is companionship.
LOLADE SOWOOLU
Marriage is convenant of help and completion.
LANRE ODUKOYA
Eternal communion where the stretch of tolorance is limitless between a man and a woman who have the agreement to walk into it.
OLUSHOLA FASHUBA
It is a union between a matured man and a woman.
RONKE ONADEKO
It is punishment both in the kitchen and bedroom, but most times we all come out smiling.
BASKETMOUTH
Marriage is an agreement which the man loses his bachelor degree and the wife get her masters.
VICTOR UWAEZUOKE
Marriage is a place where you are a licenced 'Congo shinner'.
AYODEJI ONABANJO
Marriage is a day when a boy stands on the stage, watches every girl dressed so beautifully and thinks 'where the hell were these girls tillnno?
NOMORELOSS
A journey into the unknown.