AIYEGBENI ASKS MOYES TO PLAY HIM REGULARLY OR HE QUITS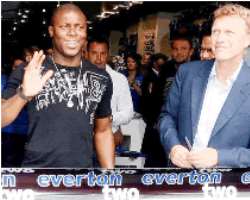 Aiyegbeni and Moyes
Yakubu Aiyegbeni is frustrated with his lack of playing opportunities at Everton this season. The Nigeria striker has spent most of this term sitting on the bench with Michael Arteta preferred by Coach David Moyes.
Aiyegbeni has scored just one goal this season and admits he's fed up with his role on the bench. "It's frustrating as a striker when you don't play. I want to play," Yakubu said. "When you don't have chances to play, it's really hard for you as a striker.
It's really frustrating sitting on the bench.
Yakubu admits that the form of the current players will make it difficult for him to breakthrough to the starting team. "But the team is playing really well," the Super Eagles' striker said.
"You have to wait and take your chance. At the moment, everything is good." The Toffees have scored just 21 goals in 19 Premier League games this season and have been short of a striking threat for much of the campaign. Jermaine Beckford, Louis Saha and Aiyegbeni have mustered just three goals between them, while Tim Cahill was chosen as the lone front man at Upton Park.
Cahill created the equaliser for Seamus Coleman just before halftime, but Everton lacked a clinical instinct against the top-flight strugglers.
"I thought if anybody deserved to win it, we deserved it, but we didn't have enough chances at goal on Robert Green," Moyes told Sky Sports. "I thought we had a lot of the ball, but it was a bit like the start of the season with the same failing and it didn't look like we could get that other goal."
With the transfer window due to open, Moyes confirmed he would look to the loan market in the hope of finding a solution to his team's goal scoring troubles. He added: "It's known we're quite tight for cash at this present time, so we'll try and look round the loan market to see if we can do something."
Mikel Arteta has blasted Everton's strikers, telling them they need to take their chances and start hitting the back of the net if the Toffees are to stop the rot in their sorry season.
The Spanish playmaker's side was tipped for a European spot at the start of the campaign, but injuries and poor results have left the Merseysiders in 14th place on the table at Christmas, only five points from the drop zone. And Arteta has laid the blame squarely at the club's four misfiring strikers, who have netted only three Premier League goals this term between them.
Great things were expected of Jermaine Beckford, the 27-year-old who signed from Leeds United in the summer, but he has scored only twice for his new club in 13 league appearances. That is one more than Aiyegbeni's, who hit the winner in the 1-0 win over Stoke. That was his only goal in 12 games. Victor Anichebe and Louis Saha, scorer of the quickest FA Cup Final goal two seasons ago, have both failed to net in goals.
Australian midfielder, Tim Cahill leads the way and has nine league goals to his name, while Arteta himself is in second place in the club's scoring charts with three. Both are putting Everton's strikers to shame, and Arteta has had enough. 'We need those players to score the goals, we can't rely on Tim (Cahill) all the time,' the 28-year-old player said.
'We need the strikers to score the goals because that is going to make a big difference in the team.'
Arteta is hopeful that last Monday's 2-1 win over high-flying Manchester City, in which Cahill and Leighton Baines scored, will be the catalyst Everton needs to propel its up the Premier League and spark a great run in the New Year.
The midfielder, who missed out on the victory at Eastlands though suspension, is confident the New Year will herald some Everton resolves, especially if the strikers start finding their targets.
He continued: 'We've had ups and downs, and I think we're not in the position we wanted to be at this moment in the year. 'The truth is we've had some really bad results against teams that we were hoping to beat, and we've had some really good ones against teams that some people thought we would not get the points from.
So, it's been a really strange season from the start, and there's still half of the season to go, we want to put that right.' Everton, which hosted Birmingham on the Boxing Day, won only three points from its opening five games, kicking off the campaign with a 1-0 defeat at Blackburn. A draw with lowly Wolves was followed by a loss to Aston Villa, which has also been struggling of late. Then Arteta and Cahill both scored in injury time to earn a point against Manchester United at Goodison Park in one of the games of the season so far.
Many observers thought that the brilliant 3-3, a comeback from 3-1 down, would be the turning point for Everton in the season. Though Cahill and Arteta struck again to down archrival, Liverpool at Goodison Park, the team has struggled to finish most teams off and has drawn half of its 18 games.
Arteta thinks that if Everton is to climb back up the Premier League, it must hope for some good fortune which, he suggests, was on show last Monday night when the team held on to three points with 10 men as Mario Balotelli struck the post. He added: 'In the last game against City, we had that luck we've been missing in the other games, and we won that game.
'Some people were expecting Everton to lose, and it had the chances to score but for some reasons it didn't. And the two chances we had, we took them. In the other games, it has not been the case. I think that was the big difference.'