ECOWAS GIVES GBAGBO MORE TIME TO QUIT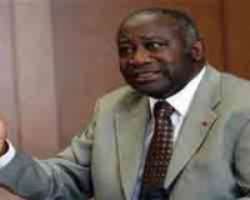 AFTER the first visit failed to force Laurent Gbagbo to surrender the presidency and hand over power to Alassane Ouattara, the internationally recognised winner of last month's election in Cote d'Ivoire, West African leaders yesterday said they will return to the troubled country to resume negotiations with him.
According to a report by Reuters, the 15-nation Economic Community of West African States (ECOWAS) had threatened military action if Gbagbo did not step aside and allows Ouattara to take over the presidency.
A delegation of presidents from Sierra Leone, Benin and Cape Verde on Tuesday delivered in person what they called an ultimatum to leave. Gbagbo rebuffed their efforts and did not depart the country into exile with them as had been hoped. Instead of preparing a military strike yesterday, ECOWAS blinked and gave Gbagbo - who has already been president five years beyond his mandate due to chaos in his country - more time.
Nigerian President Goodluck Jonathan, whose country is the biggest player in ECOWAS, said the delegation would return to Abidjan next Monday.
'Whenever there is a dispute, whenever there is disagreement, it is dialogue that will solve issues,' Jonathan said in the Nigerian capital, Abuja, where ECOWAS is based. 'The dialogue is on. They are encouraging us to go back,' the Reuters report read.
The United Nations (UN) declared Gbagbo the loser of the presidential runoff vote held on November 28. The UN, which was tasked with certifying the results of the election, the United States and other world powers have insisted Gbagbo hand over power to Ouattara.
Gbagbo, however, points to the Cote d'Ivoire constitutional council that said he was the winner. The council, which is led by a Gbagbo ally, made that announcement after throwing out half a million ballots from Ouattara strongholds in the north, saying violence and intimidation directed at Gbagbo supporters meant results from those areas should be invalidated. The top UN envoy in Cote d'Ivoire has disputed that assessment.
While Ouattara has gained widespread international recognition and is creating a shadow government from an Abidjan hotel, Gbagbo maintains control of Cote d'Ivoire 's security forces.
Gbagbo has been in power since 2000. The election was meant to help reunify a country that was divided by a 2002-2003 civil war into a rebel-controlled north and a loyalist south, but Cote d'Ivoire now stands again at the brink of war.
The government of Cote d'Ivoire's incumbent president, Laurent Gbagbo, says it will sever ties with countries that recognise envoys named by presidential challenger, Alassane Ouattara.
A government statement on Tuesday said it will expel ambassadors from countries that cut ties with Gbagbo appointees.
In a sign of mounting tensions, a crowd attacked a UN convoy on Tuesday, wounding one peacekeeper with a machete and setting fire to a vehicle.  The UN mission in Cote d'Ivoire has refused a demand from Gbagbo to leave the country.
The UN says more than 170 Ivoiriens have been killed in clashes since the presidential election, which was intended to stabilise Cote d'Ivoire eight years after a civil war divided the country.
A spokesman for Ouattara told VOA that Gbagbo should be forced to step down as a deterrent to other African rulers who may also want to cling to power.
Gbagbo, who has been in power in the country for 10 years, told France's Le Figaro Newspaper Sunday that any attempt to use force to remove him from power could start a war in West Africa.
He said he takes threats against him seriously but will not back down.  Gbagbo accused France and the United States (U.S.) of plotting to drive him from power, but a U.S. official called that charge absurd.
The regional bloc, ECOWAS is comprised of Benin, Burkina Faso, Cape Verde, Cote d'Ivoire, Gambia, Ghana, Guinea, Guinea-Bissau, Liberia, Mali, Niger, Nigeria, Senegal, Sierra Leone and Togo.