INEC RELEASES CANDIDATES' LIST FOR DELTA GOV RE-RUN POLLS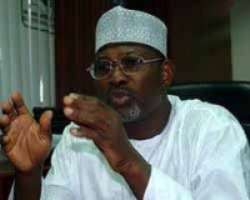 Ogboru, others disagree over voters' register
THE Independent National Electoral Commission (INEC) yesterday released a list of 14 candidates and their deputies for the Delta State re-run governorship election which has been fixed for January 6 next year.
The list supersedes the earlier one which has three female candidates with two vying for the governorship slots while one is seeking a deputy governorship slot.
Those on the new list dated December 27, 2010 and signed by the INEC Resident Electoral Commissioner for Delta State, Dr. Ogbudu Gabriel Ada, include Dr. Eweta Emmanuel Uduaghan of the People's Democratic Party (PDP) whose tenure was cut short by a Court of Appeal judgment, which overturned his April 14, 2007 election victory, Great Ovedje Ogboru of the Democratic Peoples Party (DPP), Obarisi Ovie Omo-Agege of the Republican Party of Nigeria (RPN) and Donald Dumbili Chukwuemaka of Justice Party (JP).
Others are Peter Oghenevwogaga (Accord Party), Chief Ngozi Agbogbo (African Democratic Congress), Barrister Veronica Bamutu Musu (ANPP), Ogbe Onokpite (CPP), Dr. Emmanuel Mafiana (DPA), Abel Omamamo Edijala (Labour Party), Johnson Aje Boghuku (MRDD), Okeya Ojamovo Edwin (NMDP), Taju Sumonu Isichei (PPA) and Igbini Odafe Emmanuel (PRP).
However, the DPP and Chief Ogboru have again charged INEC to either produce a new voters' register for the election or display the old one for at least five days for the benefit of the electorate.
He also said that all his opponents who attained power through electoral fraud in the April 2007 election should not be allowed to participate in the forthcoming re-run election.
But former Senate Chief Whip, Roland Owie, has criticised those calling for a fresh voters register, saying their agitation was borne out of ignorance of the law.
Ogboru who spoke yesterday at a press briefing in Lagos to voice his disapproval of INEC's stand on the voters' register, said: 'There is a problem though. INEC is not ready because as at December 23, we asked INEC for the voter's register which they want to use to conduct the re-run election and they told us that they were still trying to doctor the 2007 register to make it credible. But the same INEC and the chairman of that body had told us that the 2006 or 2007 voters' register has zero credibility and therefore could not be used. Now we are asking, how does INEC want to change that zero-credibility register without the benefit of a fresh registration, or are we saying that Prof. Attahiru Jega wants to start by conducting an election that lacks credibility, because without a voters' register, no type of election can be conducted, good, bad or indifferent? As at yesterday, they were still trying to get the register for the elections in place. The question is, why could not INEC conclude that simple exercise before giving a date for the election?
'Some people are asking why we are complaining and other people are not complaining. We are the people that the electorate want to vote for. If we don't complain, then they would be disenfranchised and there would be another miscarriage of justice. So, whereas we are prepared, it is our candid view that INEC is not prepared for that election,' he said.
The DPP candidate urged INEC to postpone the election in order to ensure that no eligible voter is disenfranchised.
His words: 'From our own perspective, we are saying that a minimum of 10 days should be given for that exercise before an election, because within a 10 days' period, people would be able to find out where their names are in the register and then they can vote. All we are asking INEC to do is give Delta people the voters' register and give them 10 days to organize themselves to vote. If INEC cannot do that then their motive must be disappointingly ulterior. We don't know what the rush is about. We still have 32 days or 33 days between the January 6, and the terminal date of 90 days allowed by the Court of Appeal. So, what is the problem with INEC? In any case, the court did not prohibit the use of a new register.  So, what INEC needed to do was to take Delta State as a pilot case, conduct the registration of voters in the state before other places. If they say they would start on January 15 nationwide, why don't you start on January 3 or 4 in Delta State, then conclude before on January 15 and thereafter display the register for three to five days as statutorily required and then conduct the election. We are beginning to have doubts about the credibility of Mr. Chairman, because we see that there is a problem of capacity in the handling of this question.
'The Court of Appeal said that elections did not take place and INEC is not making sufficient, honest and fair effort to conduct a credible election. This man was occupying office illegally for three and half years and frittered away the patrimony of people of Delta State. That should put the INEC's chairman on the stands. But he has not made any statement about the Delta State re-run elections. We are not even talking about visiting the state. He has not made a categorical statement himself. He has not even shown concern about the kind of elections he wants to conduct in Delta State. So we are beginning to question Prof. Jega and his huge credibility portfolio. I hope that he would not disappoint Nigerians because that would be a big shame.'
Ogboru affirmed that he would win the re-run if INEC did things rightly.
He added: 'How do you say that a man who was taken out by a court and declared as an illegal occupant of office is in power? This man is going to be running for his life. You have observed that the Acting Governor is his hireling. Well, if he could not stop the Court of Appeal from taking him out and the mood of this country today is that of one-man, one vote, then I can assure you that he is gone for good because the people of this state are angry with him for stealing their mandate and staying in office illegally. He robbed our people their right to franchise. In any case, people are saying that he did very badly in three and half years.   What kind of power does he have? He hasn't gotten any power at all because the electorate has the power. The power he has today is to spend money illegally acquired, but he does not have power to change the will of the people of Delta State. That is where true power lies.'
Speaking to reporters in Benin City, Owie, a former All Nigerian Peoples Party (ANPP) gubernatorial aspirant in Edo State in 2003, said all pre-election conditions in Delta have been met before the 2007 election and that those conditions remain since the court ordered for a re-run and not fresh elections.
'I am shocked that quite a number of people have called on INEC that there must be new voters register before the re-run election in Delta can be conducted. It is very shocking that we Nigerians don't read, we seem to be very illiterate. When a re-run election is ordered, what it means is that the condition precedent to what happened in the year of the election continues, that is why no new candidates are admitted to run in a re-run. It is assumed by law that elections are being conducted at the point when the election formally held before the court ruled so to even use new voters' register is illegal. What is legal is the old voters' register which was used in the 2007 elections'.
Now that a re-run is ordered, that is the one that has to be used and that is why no new candidate can take part in the re-run election. So INEC is quite competent and it is right to conduct election in the date fixed and they don't need a new voters' register. As a matter of fact they don't need to give number of days to display voters' register… all those conditions have been fulfilled before elections were initially conducted and so you don't go back to those conditions of 60 days or 70 days as the case may be no! Everything is straight on to the re-run because all conditions have earlier been met before the 2007election'