FELA INFLUENCED ME TO PLAY JAZZ —MSF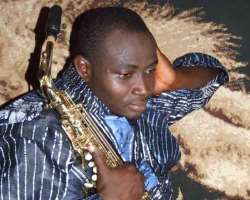 There were fears that he would not survive the circumstances surrounding his birth but Max Sanjo Folarin a.k.a MSF, has grown up to become a gospel jazz artiste. In this chat with AHAOMA KANU, he goes way back to when he watched Jazz legend like Fela and Eddie Okonta and got the influence to become an instrumentalist. He also sheds light on his new album, Berachac
Introduction
MY name is Max Sanjo Folarin popularly known as MSF. I am a graduate of Real Estate Management from the Federal University of Technology Minna in Niger State but I play Music. I am from Ogbomosho in Oyo State. I went to the university to fulfill my parent's desires for me to have an education. Right from the time I was seven years old, I knew I would be a musician.
Reactions from Parents.
It was not easy any way especially from my father though I took after him in music; he was a pianist and also played the guitar professionally and he was a music instructor. He is late now. I grew up in Niger State and that was when I started my musical career. Actually I started by using my mother's cooking utensils to create sound. I later joined junior choir and was later integrated in and trained as an instrumentalist.
Going professional.
I decided to go professional after my secondary school education in 1996 and made up my mind to be a good trumpeter. I used to watch Fela and Eddie Okonta on TV when they played. I remember watching one of Fela's shows in Berlin and I told my mother that I wanted to learn how to play that instrument that Fela was holding and I followed my dreams. I play trumpet and the saxophone.
Challenges switching from a drummer to a trumpeter.
If you have a passion for something it becomes a burning desire. I found it very easy because it was a gift God deposited in me. Nobody taught me how to play the saxophone; I only transferred my dexterity in the percussion instruments to the flutes.
Choosing Jazz.
People see jazz as an old school kind of music but I will tell you that it is for the mature mind because Jazz is one music that is on its own realm and frequency. It has a different flow that soothes the mind. People listen to jazz for different reasons and it is a spiritual massager.
Style of Jazz.
I developed my style of music and what helped me to achieve that is the fact that many people run away from Jazz and opt for Hip Hop. I learnt from Mike Aremu, Kunle Ajayi and foreign acts like Glover Washington. I later found myself playing like Mike Aremu and any of the artistes I listen to and it became worrisome. I worked on my style and differentiated my kind of jazz. In my album, there is Reggae, Hip-Hop, Highlife and all that.
Playing gospel Jazz.
I chose to become a gospel jazz artiste because that is the only way that I can give God the glory. Thirty years ago doctors wrote me off, they told my mother that I would not survive as a baby; She had an accident before I was born and lost a lot of blood. The doctors told her that the condition will affect and kill me so they wanted to dislodge me to save her life. My mother refused to allow them to do that and thirty years later, those doctors are alive to witness the goodness in my life. So I chose to show my gratitude by playing gospel.
Album.
The title of the album is Berachac-it is a Hebrew word that means praise. I stumbled on the word in my bible and felt that God has given me reasons to praise him. People are astonished at the name but that is the suspense. There are tracks like Dancing Time- a combination of Highlife and Makossa; Papa in Heaven-a hip hop gospel song produced by ID Kabasa. The tracks in the album were done in such a way that it will cut across and get to the door steps of everybody.
Capturing the music scene.
It can not be denied that Hip-Hop has gained a lot of ground in the Nigerian music scene but I used a strategy to blend our gospel songs with Hip-Hop to capture the yearnings of the Nigerian youths. When it comes to the middle-class, there are high life songs that has slow beats but are worship songs that will meet their taste. We also have Reggae for those in love with Reggae music. Ten years from now we will have a revolution in the gospel music scene.
Message.
Everything I sing about tends towards giving God the glory; even by the way I play my saxophone. I make sure that I ask God to let his breath pass through my instrument. When I look back and see where I came from, I give God the glory. Music is a full time thing for me. I feel very good that I am doing, preaching the word to people through my music and it is affecting their lives.
Record Label
I have a very fantastic management called Root Entertainment Africa. They have been doing a lot for me. They are working on my music video being out and it will be in every TV station with time.
Dream.
I would like to do a song with Ron Kenoly-that man is an epitome of God's goodness. He is the biggest praise leader I have ever come across. When he came to Lagos sometime ago, I was there and I watched him play live and it was electrifying. He sang Nigerian praises and that gives me hope that one day I will do collaboration with him in future.