ASHES: RICKY PONTING SET TO LEAD AUSSIES IN MELBOURNE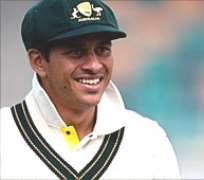 Fourth Ashes Test: Australia v England
Venue: Melbourne Dates: 26-30 December Start time: 2330 GMT on 25 December
Coverage: Listen live on Test Match Special on BBC 5 live sports extra, Radio 4 LW & online; highlights (UK only) and day's review on the TMS podcast; live text commentary on BBC Sport website; live on Sky Sports 1; highlights on ITV4
Ricky Ponting looks certain to captain Australia in the crucial fourth Test against England in Melbourne after coming through a net session unscathed.
The 36-year-old fractured a finger when he parried a catch during Australia's 267-run third Test victory at Perth.
But he batted against a bowling machine in the indoor nets at the MCG before heading outside to face throw-downs from coach Tim Nielsen.
"Ricky is pretty happy with how things went," team-mate Michael Clarke said.
"He said it felt pretty good after facing some balls on the machines and facing the bowlers [in the nets].
"We're all hopeful and confident. Unless they cut his finger off, it's going to be really hard to leave Punter [Ponting] out.
Uncapped New South Wales state batsman Usman Khawaja has been on standby for Ponting, who will not be able to field in the slips if he does play on Sunday.
"He'll probably field at mid-off or mid-on," Australia vice-captain Clarke added.
"As long as you're pretty close to seeing the line which the bowlers are bowling, it's probably better for the bowlers that Punt's there to be able to talk to them as well.
Vaughan rips into Aussie top order
"He has fielded there plenty of times in one-day cricket so I don't think it makes much difference."
Ponting has won five of the six Test matches he has captained Australia at the MCG, the only blemish being a nine-wicket defeat by South Africa in 2008.
And the Tasmanian said he is "confident" of leading out his team once again in front of a world record sell-out crowd in the Victorian capital.
"If there is ever a Test you want to play it's Boxing Day in Melbourne," Ponting told The Australian.
"I'm confident I'll be there playing in front of what we all hope will be a world-record crowd of 91,000 or more at the MCG, because it doesn't get much bigger than this.
"I will be very surprised if I'm not out in the middle tossing the coin with [England captain] Andrew Strauss come Boxing Day."
Ponting has an impressive record at the MCG, with a Test average of 62. However, he has only scored 58 runs against England from three innings at the ground.
He has also had a torrid series to date with the bat, averaging only slightly over 16.
"I haven't been in the middle long enough to know whether I'm in or out of form," continued Ponting, who has scored only 22 runs in four innings since the first Test.
"Sometimes you just feel like you are stuck in a trough and can't get out – and it has been a bit like that for me.    Tom Fordyce Blog
No matter what the situation is when he comes to the crease, throw Swann on and see how he copes with it
Michael Vaughan on how to dismiss Australia's Mike Hussey
"But I am going to keep doing the things I have always done, and it will turn."
Wicketkeeper Brad Haddin spoke of the captain's importance to the team ahead of what could prove to be a crucial fourth Test with the series tied 1-1.
"The signs are all good at this stage. It's very important that he plays," Haddin commented.
Ponting is not alone in struggling with the bat, as Clarke has averaged only 23 in the series, but the Australia skipper believes he and his team-mate can both hit form in Melbourne.
"As team leaders Michael Clarke and I know our performances have to improve," Ponting added.
"I actually look at our lack of runs as a positive going forward. We just can't keep performing this badly.
"If you watch us train it would appear that nothing is amiss. It's not as if we're struggling. Far from it. I feel good and Michael looks as good as he ever has."
Haddin concurred with his captain and added: "Obviously those guys are class players. Their records prove that.
"One thing class players like is playing on the big stage, and it doesn't get any bigger than Boxing Day."
Pakistan-born Khawaja would be the first Muslim to play for Australia
After their success in Perth, Australia have also been buoyed by the uncertainty in the opposition ranks, with England fast bowlers James Anderson and Steven Finn both reportedly feeling stiff after their Waca exertions.
"We've got a really good feeling about our group, and there are whispers about some of their bowlers being sore – Anderson and Finn and all that stuff – so the shoe's on the other foot at this moment," Ponting reflected.
"They're thinking harder about the make-up of their team, which is different from after Adelaide."
Khawaja has been the outstanding player in this season's Sheffield Shield, leading the run-scoring charts with 598 at an average of 74.75.
However, the attacking left-handed batsman, whose family moved from Paksitan to Australia when he was a young boy, said he was not expecting a call-up to play at the MCG.
"The boys had a great win in Perth and I am just happy to be doing the job for NSW," Khawaja commented.
Australia levelled the best-of-five match Test series at 1-1 with the victory in Perth last week, although England remain in the box seat, needing only to draw the series to retain the Ashes.
The fourth Test starts at 2330 GMT on Christmas Day with the final match following at Sydney in the first week of January.
England (from): AJ Strauss (captain), AN Cook, IJL Trott, KP Pietersen, PD Collingwood, IR Bell, MJ Prior (wkt), GP Swann, TT Bresnan, CT Tremlett, JM Anderson, A Shahzad, ST Finn.
Australia (from): RT Ponting (captain), PJ Hughes, SR Watson, MJ Clarke, MEK Hussey, SPD Smith, BJ Haddin (wkt), MG Johnson, RJ Harris, BW Hilfenhaus, PM Siddle, MA Beer, UT Khawaja.
Umpires: A Dar (Pkn) and T Hill (NZ)
Third umpire: M Erasmus (SA)
Match referee: R Madugalle (SL)