JAMAICAN TRAINER TIPS METU TO BE WORLD CHAMPION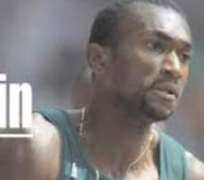 NIGERIA'S fastest man, Obinna Metu, has revealed that the country would reap the benefit of his training in Jamaica, where is currently in training courtesy of G4S Plc.
He started training on the 10th of this month on exciting note, saying: 'This day marked one of the happiest moments in my life.
I wish to thank G4S Plc for their huge support and the enormous length they have gone in sending me to Jamaica for this amazing training experience with Glen Mills.
'Being my first time in Jamaica, I was greatly received at the airport by the Jamaicans, both the media and G4S Plc officials. They took me in a car down to a beautifully equipped apartment provided to ensure that I am comfortably settled.
'The following day was great. I met with Glen Mills and he was so nice to me. He took me along and we walked through to some of his training departments.
He showed me where they train and also told me the time I was expected to be at the training sessions.'
He spoke further: 'In my conversation with Glen Mills, he told me that I have all it takes to become a champion like Usain Bolt and promised to bring out the best in me.
'My first time of training with Glen Mills was painful and tough, but at the other hand, I was excited.
Painful because it was my first time of training with him and I was not used to the pattern of his training programme.
But I got more excited when I was doing it with the World and Olympic Champion (Bolt).
'I believe that with God on my side and the help of G4S Plc, Glen Mills will make something good out of me.'