2011: YOU CAN'T WIN BORNO, YOBE, ANPP TELLS PDP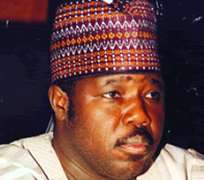 Sheriff
Borno and Yobe States will still be controlled by the All Nigerian Peoples Party (ANPP) in 2011 despite the posturing of opposition parties.
Borno State Governor, Senator Ali Modu Sheriff, expressed the confidence during fund raising dinner for Yobe State Governor, Ibrahim Gaidam, who is seeking for fresh term on the ANPP platform.
'Borno, Yobe are no-go areas for the opposition parties, particularly the Peoples Democratic Party (PDP). God has made our dominance possible and we shall continue to deliver democracy dividends to our people. We promise never to fail them.'
Speaking on the candidature of the Yobe State governor, Sheriff acknowledged his performance, noting that the Gaidam administration had transformed the state. 'I am in a better position to do a comparative analysis on Yobe State. For me as a citizen of Borno, as a political leader in Borno State, I can say the transformation in Yobe has been so dramatic that people are asking, 'what happened to Yobe all these years? Honestly, Yobe of today is comparable to any city in Nigeria.'
The Borno governor, who was chairman on the occasion, called on the people of the state to sustain their loyalty to Governor Gaidam, who is seeking for fresh mandate, to enable him continue with his developmental strides.
'You can only sustain what you are seeing if you elect leaders who align with the Millenium Development Goals. Analogue leadership would not work. You have to look at dynamic leadership. Compare what the previous administrations had done; look at Gaidam's achievements and make your judgment. It will explain why Gaidam deserves a second term.'