NIGERIAN WRESTLER DIES FIGHTING FOR TITLE, COMMANDER WINS UPWF BELT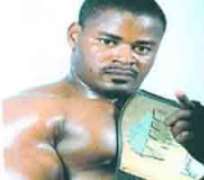 TRAGEDY hit the indoor sports hall of the National Lagos Stadium in Surulere on Sunday when national heavyweight title contender, Lion Man, slumped and died shortly after losing the belt to Power Lee via a technical knockout.
Lion Man, whose real name could not be ascertained at press time, came into the fight hoping to win the belt he lost to Osita Offor, also known as De Ultimate Commander, about five years ago.
Unfortunately, he could not live to even receive the consolation from those that felt he gave his all in the tragic fight.
The pugilist, whose wife is said to be five months pregnant, jumped into the ring with the mien of somebody eager to dispatch his opponent quickly.
But he met strong resistance from Power Lee, who after the initial moments of the fight, began to pummel the visibly unfit challenger.
And to save Lion Man from further punishment, the ring judges stopped the fight, but it came too late.
Shortly after the Enugu State-born wrestler trudged off the ring, news filtered in that he had slumped and died just outside the venue of the championship.
He was taken to a nearby hospital where he was certified dead by doctors.
Reacting to the incident, President of the Nigerian Wrestling Board of Control (NWB of C), Everest Ofoegbu, said it was an unfortunate development that could have been avoided if all the wrestlers had adhered strictly to the rules of the sport.
'We try to preach the safety in wrestlers being physically fit for every competition, but at the end you still find some people not adhering to the rules,' he said.
'We will find a way of monitoring the fitness of our wrestlers to avoid future occurrence of such sad incidents. This is really unfortunate.'
Meanwhile, in the main event of the day, De Ultimate Commander defeated American Shelton Benjamin and Warlord to become the new Universal Pro-Wrestling Federation (UPWF) champion in a three-way fight decided by knockout.
Another American, The Barbarian, beat his compatriot, Katanka, by a pin-fall, the same way Mike Mondo defeated Jeff Lee in the main supporting bout of the night.
America's tallest woman wrestler, Lindsay Hayward, lost to her compatriot, Trenesha Biggers, just as Nigeria's The Executioner defeated Congo's Shakabula.