Chelsea Dreams Resurgence Against High-flying United At The Bridge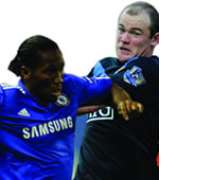 Drogba and Rooney
Chelsea has everything to play for as it challenges Manchester United to a duel in tomorrow's Week 17 Premiership fixture billed for the Stanford Bridge.
However, a fog of fear appears to be hovering over the West London outfit, thereby casting a shadow of doubt on its ability to triumph over the visiting United in the high-pressure game its winner looks good to go all the way in clinching this season's title.
Chelsea, looking like a side that lacks fire and creativity, only needs to do the needful: claiming the three points and then talking of a crack at returning to the summit of the table in the event that Arsenal and Manchester City stumble in their respective outings.
After losing the opportunity to re-launch its title bid last week, the Blues now need a miracle to realise that dream against unbeaten Red Devils that are pressing for the Premiership's shield with renewed energy.
As expected, the London millionaires will throw all it has into this encounter that passes as the star fixture in Europe this period. Having gone five Premiership games without a win, they are condemned to win this one. For one, they need it to reclaim the leadership of the 20-team championship and be in the frame for a successful defence of their crown.
Again, a win over United will be a strong announcement that they are back on the winning way for good. And having dusted United thrice last season, they need the game to prove that their past feats were no mistakes. The victory could as well save Carlo Ancelotti from an impending plunge into the labour market.
However, the team's performances in recent times do not persuade any optimist to believe that it can break down United unless the unexpected happens. And that unexpected could come from the boots of Didier Drogba, Florent Malouda or Salomon Kalou, who are the team's front men in terms of goal scoring.
The Chelsea trio will have to fight real hard to overcome robust challenges from United's Dimitar Berbatov, now leading on the goal scorers' chart with 11 goals, Ji Sung-Park, Javier Hernandez and Nemaja Vidic, among others.
Their team's three victories in a row are clear indications that United is really on the move. If they win at the Bridge tomorrow, they will be securing United's 17th unbeaten run and second victory away from Old Trafford this season. And this will leave no one in doubt that the Red Devils are well on their way to their 19th league title.