MY AGENDA FOR KOGI STATE, BY KETAPA, PDP GOVERNORSHIP ASPIRANT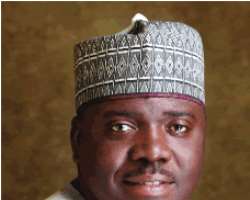 Kutepa
Competing with over 30 aspirants to secure PDP ticket.
I was born in Lokoja, a confluence city. It is not just a confluence of two rivers, but also of different people, cultures and religions. Lokoja is a cosmopolitan setting. I don't do business only in Nigeria, I do business all around the world. I engage people not based on ethnic consideration but on ideas. All of that requires you competing with people.
I was a branch manager in a new generation bank competing with bigger banks. Today, it is competing on the financial services space and getting customers and delivering the objective for which it was set up. I told you that we participated in a transformative bidding process against 360 local and international companies, and my company was one of the 24 that were successful. I am chairman/CEO of that company today.
We are one of the very few local companies that produce and export crude oil out of Nigeria. It is a fiercely competitive business. I have come through a rugged process of competitiveness in the private sector. I am not jittery at all over the huge number of aspirants that have so far emerged on the same platform with me in the PDP. In the private sector, when you are competing, there is an analysis we always do. It is called SWOT analysis (Strength, Weakness, Opportunity, Threat). I have done the SWOT analysis of the political space, and I have a good understanding of my chances. I have lots of friends and goodwill across the state.
I went to school in GSS Dekina, which is in the eastern part of the state. I have no fear of competition as an aspirant from a minority tribe. The concern of the Igalas is that if they let go of power, they are not sure of what will happen to them. They are, therefore looking for a reliable partner. The major tribes are suspicious of one another. So, I see myself as a trusted and tested minority candidate that can be the bridge and the unifying factor.
The minorities don't have the population, size and wherewithal to dominate any one if they wanted to. That is why my support base is from the big ethnic groups. I believe that I will be the best unifying force in my state and I will ensure that the interests of the people ceding the power and all other groups large and small are protected. Everybody in Kogi State regardless of tribe or what part they come from in the state will certainly benefit from my government, if I eventually emerge as their governor.
My contribution to the society
Even before joining politics, as far back as 1996, I have been involved in humanitarian and philanthropic services in my state. We use the Isa Kutepa Foundation to provide these services. I started building boreholes to provide safe drinking water for people. We did about 12 boreholes in collaboration with UNICEF. Today, more than 10 years later, some of those boreholes are the only source of drinkable water in the communities where they are.
In addition, I have been granting scholarships across the state. I also arranged with some doctors from the United States who came and treated about 3,000 people free of charge. I have also gone back to the primary school and secondary school I attended in Lokoja and Dekina respectively and transformed them. My primary school today is perhaps the only public school where the pupils have access to and receive computer education through my efforts.
Similarly, I have built a world-class science laboratory for my Alma Mater – the GSS Dekina. Our students can now compete with anybody anywhere in the world in terms of basic knowledge of science.
My agenda for the people of Kogi State
Kogi State is a highly blessed state. I am not sure if there is any state in Northern Nigeria that has received the level of investment in non-oil sector like Kogi. In the last 20 years, the state has received about $8billion. The Ajaokuta Steel Company has been valued at $6billion. The new Obajana Cement plant is about $1billion. You are also aware that a Chinese company is coming to build a refinery in Kogi State, and that is about a billion-dollar investment.
The location of Kogi State gives it a natural advantage for the location of industries, because you can easily link the South and the North from Kogi State. The state shares boundaries with 8 states in the North, East, West and FCT. With this advantage of central location and the existing infrastructure in Ajaokuta, and the dredging of River Niger, the state is the natural hub for the industrial revolution in Nigeria.
In addition to all these, the state is blessed with huge iron ore deposits in the central senatorial district upon which Ajaokuta steel complex is built, huge limestone deposits in the Western Senatorial district upon which the Obajana Cement factory is built, and huge deposits of Coal in the Eastern Senatorial district upon which power plants and alternative sources of energy can be built. What we need to do is to bring the necessary private sector expertise to deploy financial and human resources to transform these potentials to wealth and employment for our people, empower our women and rural dwellers and halt the rural urban drift.
In doing all of these, more wealth is created for the Government beyond the monthly federal allocation, to provide the infrastructure and enabling environment for entrepreneurship and innovation to thrive. In the State capital Lokoja, the confluence, the Rivers Niger and Benue and the various hills and plateau provide vast opportunities for prime real estate development.
These coupled with the various colonial legacies and historical monuments are raw materials for a tourist industry. All of these require that we must build first class infrastructure.
For the River Niger, we must rebuild the waterfronts, build hotels, shopping malls where people would come and want to stay.