KALIKA VOWS TO PRODUCE KILLER EAGLES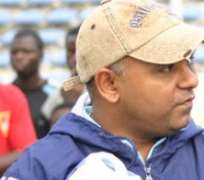 By Fidelis Ebu, Abuja
Samson Siasia's assistant, Simon Kalika has promised to produce a brand new Super Eagles; a task he said would be accomplished after their search for determined players who are ready to play for Nigeria.
Kalika, who has been assisting Siasia right from the latter's reign as coach of  the national Under _20 team, the Flying Eagles, said he has noticed a good number of players in Europe and that a visit to the players and their club officials would confirm their availability whenever their services were required for national assignment.
'We are preparing to visit some of the players in Europe before the clubs go on Christmas break, and by early January, we should be able to come out with a comprehensive list of players that are prepared to honour invitation to the Super Eagles' team', Simon Kalika said in a chat soon after signing his contract with the Nigeria Football Federation Technical Committee.
The Dutchman who asserted that he embarked on the Super Eagles' assignment since three years ago, said the calibre of Nigerian players he has spotted in the foreign leagues are capable of transforming the team should they honour the call that would be extended to them.
Remarkably, the NFF technical committee has approved Siasia's programme to embark on foreign tour in search of materials for his team, and he is expected to depart for Europe this weekend to meet with a number of Nigerian international players plying their trade abroad.
'This visit would enable us achieve one or two things that would enhance the building of a formidable Super Eagles', the Dutch added.