DESIGN THRILLER FROM EVELYN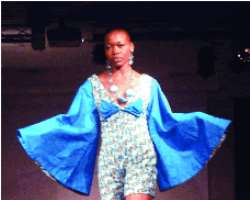 Evelyn Obike of Saint Eve Ella label has emerged the winner of this year's edition of FADAN Talent Hunt. At the grand finale which is the 2nd edition of the hunt, she beat 15 other contestants at a glamorous event which took place at the prestigeous Civic Centre, Lagos.
The contestants were judged by highly talented professionals in three different categories. They showcased their talents in corporate, casual and evening wears. Before announcing the overall winner, prizes were given to the best in each of the categories. Evelyn Obike won in casual and corporate categorie with 42 points and 43 points respectively, while Ejiro Amos-Tafari won in evening gown category. In all, Evelyn Obike became the followed by Ejiro Amos-Tafari who clinched the 2nd position, while Chinenye Obike won the 3rd position.
The winner received N2 million Microfinance loan, business website, enterprise development training, a year advisory services from Wholistic Business Solution, all expense paid trip to an international fashion show in South Africa and factory equipment to start or expand an existing fashion business. The 2nd and 3rd winners were also rewarded.
This year's event was really big and better as had earlier promised by FADAN President, Prince Idowu Oyefusi.
Among the judges were Ituen Basi, an innovative designer who has won several awards in fashion and style, Zizi Cardow who is known for globalising the African fabric and prints and Mon Ami, a leading name in Nigeria fashion industry. Others were Maureen Onibanjo, the brain behind Maufechi and Datari Rotimi, a graduate of London College of Fashion who has worked with international designers such as PRADA, NARISCO RODHIQUEZ and a stylist to BOYBOND (BOYZONE). Ricky Tang, Country Manager of DaViva Nigeria and who has more than 15 years experience in Africa Textile was also among the distinguished judges.
The event also witnessed a display of collections by top FADAN designers. BISMOL Bridals, House of Brunor, popularly known as the king of bustier, Eve 2000 and Modela Couture. Others were collections by Timi Alale of Calabar who is specialised in accessories, Wunmi O, a self-taught stylist and Big and Beautiful, who is primarily in millinery works, hats, fila oges, bag making, necklaces and shoes. All these lovely collections were made with DaViva fabrics, sponsors of the event.
The programme provided an opportunity to appreciate those who have contributed to the growth of Nigerian fashion industry. Among them were DaViva and Nobel Afrik.
Among those who graced the occasion were the First Lady of Lagos State, Mrs. Abimbola Fashola, the Deputy Governor of Lagos State, Princess Sarah Sosan, Chief Mrs. Opral Benson (Yeye Oge of Lagos) and Pricess Abba Folawiyo. Others were Mrs. Folorunsho Alakija and Mrs. Taiwo Ajayi, among others.
Guests were gorgeously dressed in ankara prints.
FADAN Talent Hunt was established last year to give the young and upcoming creative minds throughout the nation a platform to express themselves through ilustration and design interpretation.