MIKEL AMBUSHES YAK, ANICHEBE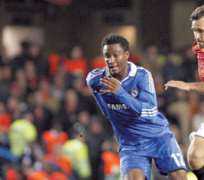 Mikel
This evening at Stanford Bridge, the pendulum can swing either ways as Chelsea and Everton eye victory to improve their placements on the log in the Premiership's Week 16 encounter.
The game, which will have the trappings of war, pitches Super Eagles' John Mikel Obi against his compatriots, Yakubu Aiyegbeni and Victor Anichebe, who are gradually returning to form having been out for a while due to injuries.
Both teams are experiencing some dip in fortune; Chelsea narrowly missed a slip into three straight defeats last weekend. Everton, on its part, slumped to an embarrassing 1-4 home defeat in the hands of West Brom. Expectedly, it would want to use the game to change its lot to move on.
As things stand, it might go down as an evening of drama and surprises. Everton doesn't appear to have lost its power to sting amid its recent drop in form. It is still on record that the Messysiders played out a pulsating 3-3 draw with the defending champion, Chelsea, at the Bridge last season, and then followed it up with a 2-1 victory in a reverse fixture at Goodison Park to confirm its supremacy over the Blues.
Manager David Moyes and his men are likely going to draw inspiration from their last season's feat, as they storm the Bridge for the showdown. The team will be counting on the superlative play of its midfield maestro, Tim Cahill. His eight goals this season have sustained the team placed 16th on the table from further sliding down the ladder. He will be Chelsea's back four tormentor-in-chief. Some flashes will be expected from Mikel Arteta, while Anichebe will be looking to open his goal account.
The Nigerian duo will find Chelsea side and their compatriot, Mikel, a difficult wall to break. The Blues, who lost the opportunity to reclaim the leadership of the Premiership table last week, will do everything to win, at least, to keep the pressure on the leader, Manchester United.
Manager Carlo Ancelotti is under some form of pressure to halt the poor run the team is experiencing at the moment. This encounter might be a wake up call to the attacking pair of Nicolas Anelka and Didier Drogba to raise their games and get the team in the right gear for a successful defence of the Premiership trophy that is still in its shelf.