FASHOLA, OTEH, KUYE, ADERINOKUN, OTHERS DAZZLE @ PEARL AWARDS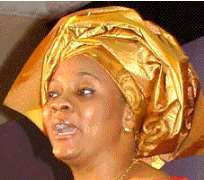 Dum-Dum
It was obviously the gathering of major players in the nation's public and private sectors at this year's Pearl Awards and Dinner Nite, which held elaborately over the weekend at upscale and pristine Oriental Hotel, Lekki, Lagos.
Among the dignitaries that helped lit up the event with their presence were the Governor of Lagos State, Babatunde Raji Fashola, who was the special guest of honour, the delectable and very beautiful Miss Arunma Oteh, Director General, Securities and Exchange Commission (SEC), Senator Jubril Martins Kuye, Minister of Commerce and Industry, who was the chairman of the fun-filled evening, Mr. Tayo Aderinokun, boss of Guaranty Trust Bank (GTB), and Emmanuel Ikhazoboh, the interim administrator of Nigerian Stock Exchange.
Also at the awards which began with a red carpet session and pool side cocktail were, Jim Osayande Obazee, CEO, Nigerian Accounting Standards Board (NASB), Mr. Bisi Onasanya, MD, First Bank, Chief Alex Akinyele among several other corporate gurus and titans. Beautiful anchored by city comedian, Gbenga Adeyinka, the event, which also coincided with the 15th anniversary of the awards also witnessed the public presentation of the 2011 edition of the Nigerian Stock Market Annual, a publication of the Pearl awards project since 1995. In his welcome address, tagged:
The Dream Lives On, President/CEO of the awards, Mr. Tayo Orekoya, maintained that the unwavering resolve to promote and sustain corporate excellence by companies quoted on the Nigerian Stock Exchange remains the propelling force for the awards dreams over the years. 'We remain committed to the vision, mission and objectives of birthing this great dream… We would also like to thank very greatly, our sponsors for partnering with us… Please sit back and savour the excitement and celebration of this great night of excellence.'
And it was truly a memorable and great night as music, good jokes and victuals, flowed endlessly while the evening lingered on. The high point of the event was the presentation of the prestigious Pearl Award plaques and certificates to deserving individuals and organizations in the sectoral leadership and market excellence categories. Meanwhile, for their immense contributions to the growth and sustenance of the Stock Market, the duo of delectable Miss Oteh, whose beauty and warmth charmed the capacity filled hall and Aderinokun were rewarded with the revered Pearls special honorary awards alongside Goddy Egene of ThisDay and Channels TV.