INCREASED WAGES IS PROPELLER FOR PRODUCTIVITY – ANYANWU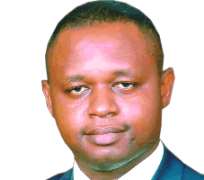 Anyanwu
Gogo Anyanwu Jnr. is a labour activist and president of the Association of Senior Staff of Banks and other Financial Institutions (ASSBIFI), Lagos chapter. A financial expert and branch manager of Ecobank Nigeria Plc., Anyanwu has put in 10 years in the banking industry and has fought and won several legal battles with financial institutions since October 2008 when he was elected to head the Lagos chapter of ASSBIFI. Speaking with Daily Sun on the recent long drawn minimum wages debacle between the Federal Government and the Nigeria Labour Congress (NLC), he advised the government that giving higher wages would propel greater and more effective production from the workers.
What is the implication of increasing wages without a commensurate increase in production?
You see, I always make this comment: 'People who have gone to Oxford, Harvard, usually come here and claim that they know it all. The worst set of people to deal with are the educated ones'. It is difficult to control them. Most people think that by going to school to obtain paper qualification is what makes you the best, but the truth is if you don't have that acumen in you; the management skills needed to carry others along, you are heading nowhere.
Now, I have not seen or met any one that would joke with his or her work, when he knows that wages are for the hard workers. So, for instance, when you tell a man: 'mould 200 blocks and I will pay you N200 a day. An average human being, whether Nigerian or not, would want to mould 400 blocks so that he can get N200 times two.
So, what actually drives productivity is the wage. That tells you that automatically, if the wages is low, productivity will as well be low. So, for you to encourage productivity, wages have got to be increased. Wages is a propeller for effective and greater productivity. An increase in wages will naturally increase productivity. That also tells you that the NLC and other striking bodies are fighting a just cause. A cause that, if won, would benefit both the government and the people.
What advice do you have for labour unions and others given the present situation?
Let me start this way. When I became the president of ASSBIFI in 2008, I had gone round the financial institutions with my team to alert other colleagues on the need to fight for their right. We told them that if they have no courage to fight the infringement of their rights, they could do it through us. We made them to understand that there are benefits in doing this and it is rewarding to fight for what you believe in.
We have laws in this country and it is when you ask for them that you get them. I give you my recent experience in legal battles. UBA Plc. is the sixth organization I have taken to court. It is the third I have won. This recent one, which I also won, started around 2005. I had a customer, who was a very wonderful one at that time. He was very reliable and trustworthy. I became his accounts officer in 2004. Before this time UBA had given him loans about three times, and he had paid back the loans without much ado. I became his accounts officer when the former officer was moved to another department.
When I became his accounts officer I recommended two other loans and he promptly paid them back. The third one he took through me, which made his loan collection the sixth, later became a bad debt. He took critically ill and could not meet up with the bank's expectations. While he was still in hospital, he paid part of the N6 million loan and it remained about N4.2 million, but then he became paralysed and bedridden and could, therefore, not pay back the loan.
The next thing my bank then did was to suspend me for a month in June 2005, because it was difficult for the customer to pay back the loan. They later recalled me and withheld my bonus allowances and, in 2006, I wrote them to pay it but they refused. And they reminded me that my customer still owed the bank. I wrote to the Group MD, Mr. Tony Elumelu, complaining to him that it would be unfair if my allowances were withheld because my customer was owing the bank. In any case, I had approved the loan, based on past clean records the customer had with the bank. Stating that what had happened to the customer could have happened to anybody, and that the bank should not make me pay for a poor customer's sin.
But despite that the bank converted the customer's loan to staff loan and I was compelled to pay so when this happened I resigned from the bank and moved to another. Then I approached them again and there were series of exchange of e-mails and letters. But they refused to respond favourably and later in March 2007 I dragged them to court. The case lasted till 2008 when it was handed over to Justice Olubunmi Oke who is a civil judge and I must commend her courage because she ensured that the case was not delayed.
So, on November 8, it was a victory brought by God for me when the justice gave the judgment in my favour. I see it as a victory for all bankers, labor union and all staffers of financial institutions across the country. I think with my recent victory most of our colleagues who have been robbed of their rights and who have not had the courage to fight would now be emboldened.
Following this development what is now your impression of our judiciary?
You see, even before the judgment was given in my favour, I have been speaking well about Justice Oke. She is a no-nonsense woman and she is very focused and I think the governor of Lagos State, Babatunde Fashola, who is himself a SAN, has put in place the appropriate machinery to ensure speedy trials that would give no room to delay justice because 'justice delayed is justice denied'. It took us only one year to be done with the case. And I want to enjoin any aggrieved person to renew their confidence in court because it remained the only hope for us. And in anything I do with corporate bodies, I always give room for litigation because it is the only hope of the common man.
Concerning the current crisis rocking our labour, you and I know that negotiation has always been the way they resolve their crises with the government. In such situation you continue to negotiate and whereby the negotiations end in deadlock then other areas as warning strike are explored and that is what they are doing. The NLC are fighting for the betterment of everyone. You have the National Assembly getting millions of Naira every month and you wonder what they are actually doing. If the federal government can cough out hundreds of millions in a year for people who only go to talk, I don't see how N18,000 should be a problem for the labourer, who truly build the country.
The president and other people in government now would soon become ordinary Nigerians like us and they have relations who are members of the NLC. These people are the ones the NLC is fighting for.
What challenges have you been facing in the banking sector?
Well it has not been so easy. We are in an industry that has been affected by the happenings in the sector. Remember the CBN sacked five CEOs of banks last year. So, our main challenge has been trying to retain the confidence the customers have in us. But we have been able to weather the storm in Ecobank as an international bank and because of the fact that we don't alter our books. I particularly commend the bank for embracing robust unionism. So, meeting our customers' needs and returns to stakeholders are also part of the challenges and we are surmounting them.