TIGER WOODS SEEKS WINNING END TO 'VERY PAINFUL' 2010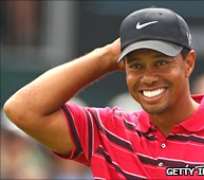 Woods has won the tournament four times before
Tiger Woods hopes to end what he calls a "very painful" 2010 on a winning note at this weekend's Chevron World Challenge in California.
This year the former world number one endured his first PGA campaign without a win since he joined the tour as well as having a high-profile divorce.
"As a golfer I learned so much more this year than any other year, and as a person infinitely more," he said.
"It's been a very successful year even though it was a very painful year."
Woods is the four-time winner of this tournament which he himself hosts at Sherwood Country Club.    606: DEBATE
Who will win this one? Thoughts?
Jordan
Amid all his personal problems this year, Woods took five months off from playing, during which time he changed his swing.
He also lost the top spot in world golf to England's Lee Westwood and is only narrowly ahead of Germany's Martin Kaymer, who is third.
Woods said he retained his hunger for success and felt he was finally getting to grips with his reconstructed swing.
"Over the last five to six tournaments, I'd get in these hot streaks where I'd do it right," he said.
"I'd get it going for two, three, four holes and now they're lasting close to nine holes.
"Now I've got to get it for 18 holes, eventually all 72, and then down to an entire major championship. So it's a process."
Asked how difficult it had been for him to focus on golf amid so many distractions this year, Woods replied: "Harder than anyone could ever imagine unless you've actually gone through it before yourself."