SIASIA TAKES CHARGE OF NIGERIA'S SUPER EAGLES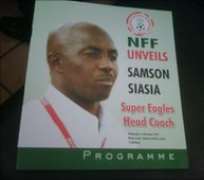 The NFF produced a glossy programme for the unveiling ceremony
Samson Siasia has signed a four-year deal to coach Nigeria at a ceremony in the capital, Abuja.
But his contract with the Nigerian Football Federation (NFF) is subject to review after the first two years.
His first aim is to earn a place at the 2012 Africa Cup of Nations, according to NFF President Aminu Maigari.
"Our football is in the emergency ward but we have a coach that is capable of pulling the Super Eagles out of this troubling situation," Maigari said.
"His contract is performance rewarding – he will get bonuses and benefits based on the performance of the team.
"We expect him [Siasia] to hit the ground running as expectations are high. He is the people's choice and with the collective support of everyone, we can all achieve success."
The 43-year-old former Super Eagles striker was chosen ahead of Stephen Keshi by the NFF last month and will start work immediately.
The coach, who has worked with Nigeria's under-20 and Olympic teams, said he was delighted to have landed his dream job.
"I feel elated that finally a dream has come true – I thank the fans, the media and the NFF," he said.
"But most importantly [I thank] the players, if it wasn't for the players I wouldn't be here. I promise to do everything humanly possible to make sure these eagles fly again. – the next time you see these Eagles, they will be a different team."
And he was promised that there would be no government interference in the running of his team, according to the Director-General of the National Sports Commission, Patrick Ekeji.
"Government will not interfere with the coaching choice or the way football should be handled – we can advise but not intervene," Mr Ekeji said.