WHY NIGERIAN PLAYERS FAIL ABROAD – EKONG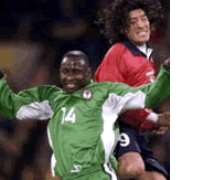 Ikpe Ekong
Out-of-favour Super Eagles' midfielder, Prince Ikpe Ekong, has identified the reasons young talented Nigerian footballers fail to succeed when they travel abroad in search of greener pastures.
The Djurgarden of Sweden midfielder, whose talent hunt programme has attracted foreign interest, said most of the football academies operating in the country do not do enough to prepare the players before rushing them abroad for professional contracts.
'I've seen many people doing talent hunt. I'm not judging anybody, but my advice is that people should learn to plant a seed and wait patiently for the harvest time,' Ekong started.
'I know that many talented Nigerian players leave the country everyday for abroad in search of professional contracts, but only a few of them succeed at the end of the day. It simply means that something is wrong somewhere. 'One reason is the life style of our players. Most Nigerians consume too much carbohydrate. But as a sportsman, you don't need to leave on carbohydrate. Besides, players need to know when to rest, when to train and the kind of training to embark on at a particular time.
'Unfortunately, when they travel broad, they find out that they need to start all over again. At the end of the day, club officials abroad would simply tell them, 'oh, you're a good player, but you need time to fit into our game plan'. So, we need to prepare our players mentally, psychologically, physically and potentially before taking them abroad as ready-made materials.
'What I've explained is our future plan. But the players we're going to select at the end of the current exercise are going abroad immediately. We're coming up with a programme in Nigeria whereby we'll groom the players and export them thereafter,' the former Julius Berger of Lagos player disclosed.
The product of the famous Ajegunle Mock Nations Cup told Daily Sunsports that he embarked on the talent hunt programme to give back to the society what he got from it.
'We started this programme in Ajegunle. I came up with an idea with my pastor and we called it 'Jesus Cup'. This year is actually the fourth edition of the tournament. 'The famous Mock Nations Cup in Ajegunle gave me the opportunity to become a professional footballer. So, I decided to embark on the talent hunt programme to give back to the system that produced me.
'Before now, we've been discovering players in Ajegunle and taking them abroad and at the end of the day, they get contracts there. After the third edition, we decided to throw the net wider by moving out of Ajegunle to scout for more talents. I had to involve agencies and foreign coaches to be part of the exercise.
'The Europeans were so impressed with what I was doing and they were so moved that they said, 'look, we have to follow you straight away to Nigeria'. And before I knew it, they made it to the country. That's why I had to invite Her Excellency, the wife of the Senate President, Mrs Rosemary Mark to come and witness what we are doing.
'I was going through her profile and I realised that she does something similar to what I'm doing. She is such a humble person and I decided to work with her so that we can expand the project.
'I really want to involve Mrs Mark in what I'm doing because she has got a heart for the people. I told her, 'please just plant a seed and there will be a harvest time,'' the born again Christian footballer sermonised.