AREGBESOLA PROMISES TO BANISH POVERTY IN OSUN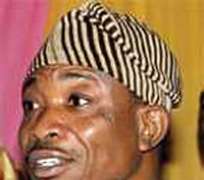 Newly elected governor of Osun State, Alhaji Rauf Aregbesola has promised to banish poverty in the state. The governor made this promise in his acceptance speech after the Court of Appeal sitting in Ibadan had declared him winner of the April 14, 2007 gubernatorial election in the state.
While extolling the courage and steadfastness of the people of the state, he reminded them the tortuous journey from the day they gave him the mandate to lead them and the struggle to reclaim the mandate that claimed the lives of some people. He reminded them the physical and emotional pains that followed the brutal siege of the state.
According to the governor, the long night of vote robbery and reluctant oppression of innocent citizens is over. ' now is the time to repair our land and empower our people. Our programmes for the redemption of our state is the same popular programme that won your hearts during the campaigns, as a result of which you gave us a resounding victory. Our cardinal programme - banish poverty, banish hunger, banish unemployment, restore healthy living, promote functional education and enhance communal peace and progress- we believe will revive and strengthen the progressive legacies of Obafemi Awolowo as encapsulated in the Action Group slogan of freedom for all, life more abundant.
' Today is a day to treasure.  Today is a day to toast.  Today is a day to celebrate.  Again, I congratulate you, the doughty and courageous people of our land!  But I also congratulate the brave Judiciary for the umpteenth time, undoing the deliberate evil Maurice Iwu-led Independent National Electoral Commission (INEC) has done.  I thank the Judiciary for doing a most patriotic duty of energizing our democracy by making our votes count, thus returning sovereignty to the people. This no doubt has mitigated the possible import of the General Olusegun Obasanjo motivated do-or-die politics.
He was full of praise for the leadership of the Action Congress Party of Nigeria, the flagship of progressive democratic movement in Nigeria for providing the paltform for him to serve.
'However, the big lesson the nation has to learn from the brazen licentiousness and untoward tendencies that were brought to taint the conduct of the affairs of the nation is the imperative for electoral reforms. The needless pains and terror visited on the Osun state people in the last 42 months and the threat to the collective integrity of the judiciary could have been averted had the Nigeria electoral system been attuned to the realities of our time and made to protect its own sanctity.