NIGERIA COMPLAIN TO CAF OVER EQUATORIAL GUINEA PLAYERS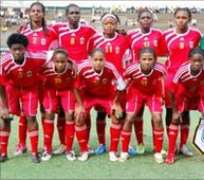 Equatorial Guinea have rejected claims made about their team at the AWC
The Confederation of African Football (Caf) is to investigate claims about the gender of some players at the recent African Women's Championship.
The move follows an official complaint from Nigeria regarding players from Equatorial Guinea.
The Super Falcons beat Equatorial Guinea in the final of the tournament in South Africa earlier this month.
Both teams have qualified for the women's World Cup and Equatorial Guinea have strongly defended their players.
The country's football federation has claimed that there is a "campaign of defamation" against the team, motivated by an "inferiority complex".
Caf says that Nigeria are the only country to have made a complaint and that the issue will be dealt with primarily by their sports medicine group.
No timescale has yet been set but the World Cup takes place in Germany in June and July next year.