INTERVENE NOW BEFORE IT'S TOO LATE, RESIDENTS PLEAD WITH FASHOLA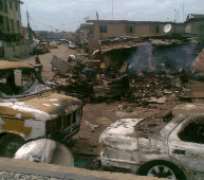 Burnt vehicles
The lingering crises in Mushin, Lagos, which recently claimed the life of a two-year-old baby is what residents would like Governor, Babatunde Fashola, (SAN) to tackle immediately. The clashes, being fueled by two factions of street urchins (Area boys) have claimed over 20 lives, including that of a policeman.
Many people had been wounded while some women were raped, many houses and vehicles burnt. The crisis took a different dimension in July this year, when it spilled over to Onipanu, Fadeyi and Jibowu areas. For instance, Fadeyi and Onipanu had witnessed many clashes this year.
Some residents of the area are accusing the two factional leaders of the National Union of Road Transport Workers (NURTW) in Mushin. They have also blamed some prominent politicians for fueling the crisis.
The concerned residents also expressed worry that the sponsors usually go to the notorious Akala and the adjoining streets in Mushin to recruit thugs, who perpetrate the heinous crimes.
One of them, Wasiu Kabiru said: 'The only solution to this problem is for Fashola to do Akala what he did to Oluwole.' He wished that the governor could pay a surprise visit to Akala to see things for himself.
He explained that each time the factions of the transport union or politicians had disagreement, they would go to Akala to hire thugs. There are also fears that some criminals are being trained at Akinbiye Street.
A visit to an area called Ghetto or Sonda revealed that 30 under-aged children, were being groomed for to commit crimes such as armed robbery, pick pocketing, drug peddling and assassination. Those who have graduated from the tutelage were asked to pay N100 per day for their accommodation and another N100 as feeding allowance.
A source disclosed that the feeding allowance is optional while that of accommodation is compulsory.
'At Sonda, you find children from broken homes or the ones who ran away from home. Most of them had been declared missing by their parents,' he said. He pointed at a cinema house and Anifowoshe Street, where criminals are allegedly being groomed. 'They specialized in snatching handsets, and handbags. There is no type of handsets, wristwatches or jewelry that you cannot find in Anifowoshe,' he alleged. Investigations revealed that minors are also involved in the hawking or peddling of hard drugs like cannabis, cocaine and heroine in areas like, Amodu and Oyegunle Streets.
Drug addicts, including prominent members of the society, were also seen sniffing hard drugs. A prominent musician, who was seen in the area claimed he went there to buy some drug for his boys, claiming he never abused drugs. Daily Sun also visited Benbela Street, where bodies of drug addicts are usually dumped before they are removed for burial. A retired soldier, who admitted being hooked on drug, appealed to the government to intervene. 'I know I am an addict, but I am an old man. I have wasted my life. I wish other people could not live this kind of life,' he said.
He was also angry that some people built some nursery and primary schools at Akala. 'We have three nursery and primary schools here. The children are watching and they are learning fast on how to sniff drugs. It is annoying that people are selling all manner of drugs, smoking and sniffing them in the full glare of the kindergarten and pupils. What kind of children are we training,' he queried.
He urged operatives of the National Drug Law and Enforcement Agency (NDLEA) and other security agencies, to beam their searchlights on Akala and the adjourning streets.