NFF NOMINATES GALADIMA TO REPLACE ADAMU IN CAF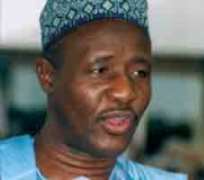 TO ensure that Nigeria maintains its presence in the executive committee of the Confederation of African Football (CAF) following the three-year ban on its former representative, Amos Adamu, the Nigeria Football Federation (NFF) has nominated its former chairman, Ibrahim Galadima, to seek election into the CAF executive committee.
This endorsement followed Adamu's disgraceful ouster from the executive committees of both CAF and FIFA for breaching FIFA code of ethics over the 2018 and 2022 World Cup hosting bids, over which he was indited for asking monetary gains. According to NFF Acting Secretary General, Musa Amadu, both the sports ministry and the NFF are in full agreement with Galadima's nomination.
If elected to the board of CAF, Galadima, a seasoned football administrator, would battle with the likes Ghana's Kwesi Nyantakyi and Jacques Alouma of Cote d'Ivoire, who have already received the endorsement of their countries, to contest for the FIFA seat.
'Nigeria is fully backing Galadima to get on the CAF exco,' Amadu disclosed. 'This was not the case with Ghana, for instance, where the government had a candidate and the FA had another.
'Now the government has to use its resources to ensure he is elected for Nigeria to still have a voice in international football.'
Galadima's nomination, which included his CV, was yesterday sent to CAF so as to beat the deadline reserved for nominations for the CAF polls. The elections into the CAF executive committee will be conducted in Khartoum, Sudan, in February. Besides Adamu's position, several other positions, including that of Togo's Seyi Mememe and Amadou Diakite of Mali, are up for grabs.
Galadima was the Nigeria FA boss from 2002 to 2006. The Kano-born football administrator, known for his forthrightness and integrity, won re-election for another four-year term, only for the sports ministry, then headed by Ismaila Sambawa, to force a re-run of the elections that brought in Sani Lu