JTF: MEND THREATENS FRESH ATTACK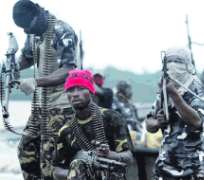 The Movement for the Emancipation of the Niger Delta (MEND) says it is set to launch fresh offensive, taggeted at oil companies and installations located in the region.
It said this was a direct response to the latest offensive launched by the Joint Military Task Force (JTF) in its bid to rid the Niger Delta region of those it described as criminal gangs masquerading as militants.
MEND, therefore, declared that it would commence destruction of oil installations to cripple the nation's economy.
In an e-mail signed by Jomo Gbomo, MEND threatened that JTF's continued offensive would only compel them to be more decisive in their reprisal attacks.
The email further confirmed that MEND was with five hostages, including two US nationals, kidnapped recently. It said the hostilities against oil facilities in the region would be a massive operation and a payback for alleged indiscriminate bombing of communities in the Niger Delta suspected to be hosting militant camps.
The statement reads in part: 'In the coming weeks, the MEND will launch a major operation that will simultaneously affect oil facilities across the Niger Delta. This decision is based on the indiscriminate bombing and strafing of communities in the Niger Delta and locations in the creeks and swamps suspected of accommodating militia camps by the Nigerian military. At about 1400hrs on November 15, 2010, the Nigerian army carried out such an attack as described above, in the general vicinity of one of our camps in Rivers State in the Niger Delta.'
'The Nigerian government should be mindful of the fact that these activities are endangering the lives of these hostages who otherwise, would come to no harm in our custody. No amount of military activities will secure the release of these hostages. They will be released at our time.'
MEND accused the Federal Government of deceiving the world into believing that there was peace in the region, noting that the only successful thing President Goodluck Jonathan had succeeded in doing was bribing a few miscreants who called themselves freedom fighters.