FACEBOOK JUMPS INTO THE E-MAIL FRAY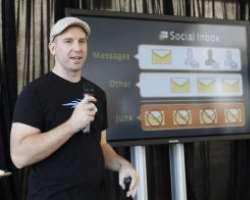 Facebook engineer Andrew Bosworth talks about the new Facebook messaging service on Monday in San Francisco. Analysts said it will step up pressure on Google, Yahoo and Microsoft.
SAN FRANCISCO — Facebook on Monday moved to cement its role as a personal communications powerhouse by introducing a "modern messaging system" that blends social networking with e-mail, chat and texts.
And although Facebook members also can receive a special "facebook.com" e-mail address if they choose, CEO Mark Zuckerberg said the "next-generation" system emphasizes two swifter forms of text messaging that are becoming more popular, especially for younger generations of users.
"E-mail is one way people are going to use this system, but we don't think it will be the primary way," Zuckerberg said.
The new platform will be rolled out slowly and be available at first by invitation only. Not alone
Facebook isn't the only company revising how it views the tried-and-true e-mail message, which a decade ago was one of the main reasons consumers wanted Internet access. With rumors of Facebook's announcement rampant, AOL on Sunday unveiled a preview of "Project Phoenix," the code name for a similar revamp of its e-mail product that includes integration with instant and text messaging and Facebook and Twitter updates.
Yahoo took steps last month to make its service more appealing to Web users enamored of social networks. It introduced a version of e-mail that integrates posts from microblogging site Twitter and delivers information at faster speeds. The service, still in a test phase, also improves searches, spam protection and the viewing of photos.
But Facebook, already one of the hottest companies in the world with more than 500 million members, is teaming again with Microsoft. The software giant, which owns a stake in Facebook, announced separately that the new messaging platform also integrates Microsoft's Office Web Apps, enabling one-click access to Word, Excel and PowerPoint documents attached to messages. Threat to Google
The moves make Facebook even more of a threat to Google, which also offers online documents and free e-mail, although Facebook officials emphasized they were not trying to create a "Gmail killer."
Social media analyst Charlene Li said Google may try to counter Facebook's moves but lacks the same kind of social networking connections.
Some critics point to Facebook's past privacy problems. So Facebook's move to control even more communication lines "raises advertising and data usage questions," Li said.
Facebook members now can send private messages between themselves, but the new platform, Facebook Messages, extends Facebook's reach to non-member e-mail addresses.
Facebook members will have one combined inbox for all messages, no matter what form. They will be socially ranked by how important the sender is to the Facebook member. And the inbox sorts related messages into conversation histories.
Facebook may be able to filter out spam messages better than other Web mail rivals by using friend data, said Danny Sullivan of website Search Engine Land.
Bloomberg News contributed to this report.