Omowunmi Akinifesi – "MY STYLE IS ELEGANT, SOPHISTICATED AND TIMELESS"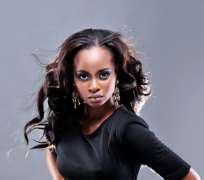 In this interview, beautiful and lovely Omowunmi Akinifesi shows us a different side to her style, says "my style off the red carpets is so different"
The Beauty of style, harmony, grace and good rhythm depends solely on simplicity, and only great minds can afford a simple style.
Omowunmi is one style icon who exudes a lot of simplicity and confidence in her style. Over the years she has become one of the most talked about stylish women in the country. We sat to a chat recently at the famous Protea Hotel on Isaac John Ikeja and there she gave us a quick insight on what makes her style different and outstanding.
.
She walked into the hotel lobby that warm Friday afternoon, looking elegant as ever, when I say elegant you'd think she wore one of those red carpet killer dresses, but no! She wore an all black overall made with jersey material and gracefully adorned her neck with a multiple strand gold and black channel chain. In her hand is a big gold Louis Vinton bag, summer 2010 collection (limited edition). She looked very simple but very classy and on point. out of curiosity I wanted to know if she's always been into fashion or it's something that that came with the fame, she smiles and says, "I've always loved to look good, I wouldn't say I dress to be outstanding, I just love to dress up for myself; but to be frank I never actually knew I wore that many outfits to generate these recognitions; when I get on the red carpets I notice the interest from different people but I never imagined I'd get all the booze from just being myself. Although this hype about my style is unexpected, I feel very honored and privileged to get all the appreciations from people. She concludes.
There's an effortless ease to your style and when she walks the red carpet people stare at her with an overwhelming admiration.
Omowunmi hardly gets her red carpets moment wrong and she doesn't deny the fact that she plans her red carpet looks for every occasion " to be honest with you I construct my red carpet looks" , she says "I always have a prior knowledge or idea of how I want to be seen. I know the kind of presence I want per event, depending on the kind of event and I follow it through to the later.
Having spent the last few years in the spotlight Omowunmi has been able to survive the hammer of fashion critic's scrutiny and this she has done by staying true to her style. She attributes everything to God's help and maintaining a low profile "I would say its God, I can't say I've been perfect but I guess its all favour. I try to maintain a low profile as well as stay true to my style… I totally dress up for me, because when I do this then I can walk with confidence… It's not a good idea to dress up for anyone but yourself, because when it comes to people you can't totally satisfy everyone. How do you even know what everyone would like? I listen to myself and I study my figure and this is what informs how I dress. Not everyone would like you but when the appraisals are more than the critisms then you are safe." she concludes.
Defining her style, Omowunmi says her style is a little bit of the accessible and then cutting edge. "I'd say it's a little bit of both… I like to keep it simple, classy, elegant and definitely not over the top. Overtime I've come to realize that when I blow my looks over the top, I end up getting it wrong, so I always try to wear the outfit and not let the outfit wear me. In three words I'd say my style is elegant, sophisticated and timeless.
A lot of people dress according to the dictates of the fashion and entertainment industry and this to a great extent affects their personal style. Agreeing completely, Omowunmi says that this is quite correct but it's a personal choice, "for me I always try to wear my stuff and do my thing because I believe I set the pace. If I begin to do what everyone is doing, then I begin to look like everyone" she strongly believes that a person's style is something that is eternal "One thing that is important to note is that trends would always come and go but style remains the same." she continues "When you dress in a unique manner and have a strong belief in your personality you would certainly not have any problems when the trends change; this is one thing most people who run after trends don't understand, if you completely go with the trends, you'd end up with the issue of reinventing yourself over and over again. So for me I always try to wear timeless pieces. She concludes.
About her guilty pleasures when it comes to fashion accessories, Omowunmi lights up her face with a smile and says "that would be statement bags… I love bags, I can wear something very simple or inexpensive but my bag has to make a statement. I just believe the bag gives the total look the "pow" effect; if people can see the label on your clothes by looking at you, let the bag do the talking. I think my bags show my taste most of the time… I love bags then accessories."
For a lover of beautiful fashion accessories, it is undeniable how much she loves to shop, so when I asked about her favourite shopping destination she lets out a laugh and says, "They are so many places I love to shop, but my last shopping destination was Milan and I totally had a blast, so I'd probably stick with Milan."

Omowunmi Akinifesi