Dampte's New Song "Go Get Her"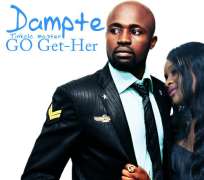 Dampte, real names, Oluwaseun Oluyole is a Nigerian artiste based in Lagos, Nigeria. He was born in the 80's and has 4 other siblings. The first son of an Evangelist mother and Pastor Father, Dampte finished his High School Education in Lagos, Nigeria and a graduate of Bellevue University, Nebraska, USA where he bagged his Bachelors of Science degree in Computer Information Systems and emphasis in Business.
Dampte started his music career at a tender age like many that came before him. However, his path to recognition did not follow the convention. Dampte first had the real taste of music at a tender age. He grew up listening to the likes of King Sunny Ade (KSA), Ebenezer Obey e.t.c. Now do you begin to wonder why such great artistes do not play a major influence on his music? Your guess is as good as ours.
Dampte, understandably, claims he gets his influences from the likes of Jay Z, R. Kelly, LL cool J, Jadakiss, Styles P, Warren G, Snoop, Treach (Naughty by Nature), 2pac, Biggie Smalls, Wale, K'naan and a host of others. He also claims to take bites off Naija's own NAETO C.
Dampte came into contact, and fell deeply in love with Hip Hop in 1994 after listening to a musical compilation of some of the afore-mentioned artistes' tracks. 5 years later, after a lot of self penning, Dampte recorded his first solo effort titled "J-E-S-U-S", where he featured Rocksteady (Then of the now defunct 2nd Avenue) and Wreck (Now a member of Dem Mama Soldiers)
After a long hiatus due to education, Dampte returned to the music scene with a massive hit single "Tinkolo" that features up and rising R&B star YQ. The single which was released in the first quarter of 2009 made it to various charts across Nigeria and Beyond. He followed his success with another massive hit single "Wapa" which also made it to various countdowns. Not relenting, Dampte, now known for his Hit- dropping prowess followed it with "Ghetto", another song that is shaking up the airwaves as we go to press.
Dampte, a gifted writer and performer has got quite a repertoire. He's been holding it down since before hiphop started ruling the Nigerian airwaves.
Dampte has successfully rocked audiences across the country and beyond. His stage performances have always been off the hook.
"I used to love to just sit down and write but now, I sit down and spit." He said recently in an interview at the Osogbo edition of his 'LosGidi Certified' album listening party.