SARAKI, OUR BEST OPTION – LAMIDO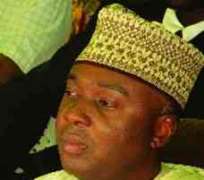 • Saraki
Governor of Jigawa State, Alhaji Sule Lamido, has finally put to rest all peculations about his position with respect to who is best positioned to fly the flag of the Peoples Democratic Party (PDP) in the 2011 presidential election.
He said among all the presidential aspirants of the PDP, the Governor of Kwara State, Dr. Abubakar Bukola Saraki, was the most qualified.
'If you are looking for quality, to me you are the best and I can say that anywhere,' Lamido told Saraki at the Government House in Dutse where he paid him courtesy visit in continuation of his (Saraki's) consultation tour to states to muster support for his presidential aspiration.
Lamido told Saraki that with the 'advantage of age, proven ability and his successful tenure as chairman of the Nigerian Governors Forum,' working for him, he should see himself as a national candidate because, 'you are qualified to aspire to any elective position in the world.'
Lamido, however, expressed reservation about the way the issue of zoning in the PDP was affecting the party's 'one family tradition' and even more dangerously balkanizing the country along the North/South divide and even along ethnic and religious lines.
Going back in time, Lamido said most of the people now fighting for or against zoning were 'not even members of the PDP in 2007 when we were struggling to install a PDP government.' Specifically, he cited the examples of former PDP chairman, Chief Solomon Lar, now in the Action Congress of Nigeria (ACN) and Iyorchia Ayu, among others, as people who were not members of the PDP when some of them fought hard to keep the party together.
Responding, Saraki thanked Lamido for his endorsement and also praised the Jigawa State governor for what he had been able to achieve in the state in just three years. 'You could not have built 900 houses through trial and error but through deliberate, focused leadership.'
Saraki also said as a medical doctor he was very impressed with the new hospital built by the Jigawa State governor. 'I can testify that it is one of the best medical facilities I have ever seen.'